Rockin' Remnants




Rockin' Remnants is broadcast from WVBR-FM Ithaca. Check out our webpage, like us on Facebook, and tune in to 93.5 or stream the show every Saturday night from 6-9pm! (Or download the WVBR+ app now available for iOS and Android!)
Thanks to our sponsors Island Health & Fitness and Rasa Spa for their support every week!
Date: 2/19/22
Host: John Simon

Feature: Free-Form Oldies Show

Gearing up for three hours of Rockin' Remnants tonight from 6-9pm. No real theme: just lots of great tunes, some cool tidbits, your chance to win movie tickets, plus your requests. Find me at 93.5 on your FM dial or streaming at wvbr dot com worldwide. No snow squalls on your radio tonight!
BTW - we'll start with five songs from recently-departed artists.
Rock 'n' Roll Trivia
Name the only member of the US Congress to score a #1 hit on the Billboard Hot 100. [hint: check out the birthday calendar]

(scroll down to find the answer below the playlist – and to find a glossary of terms)
Playlist
· yellow song titles are YouTube links
· songs with * were requests
· all chart information comes from the Billboard Top 100 (for chart dates before/during July 1958) or Billboard Hot 100 (for chart dates during/after Aug 1958) unless otherwise noted
· a glossary of terms is below the playlist
6-7pm
OPENING THEME: Good Old Rock 'n' Roll – Cat Mother & the All-Night Newsboys (1969, #29, produced by Jimi Hendrix)
Let's Hang On - 4 Seasons (10/65; #3 - New Jersey bass guitarist/singer Joe Long joined the group in 1965 and was with the band from that point forward. He passed away back in April at age 88. Listen to that solid bass line. Thanks to local studio engineer Jon Hilton for the extra-long fade, created just for our Remnants listeners!)
Iko Iko - Dixie Cups (4/65; #20 - founding member Rosa Lee Hawkins started singing this New Orleans Mardi Gras staple during a studio break, and the engineer suggested that they run the tape to capture the magic. She passed away on January 11th at age 76. That's her on the left.)
With This Ring - Platters (2/67; #14 - Sonny Turner replaced lead singer Tony Williams in 1960, and the group found new life when they moved over to the Musicor Records label. He left us on January 13th at 82 years old. Tonight we hear the rare mono 45 version of this comeback record, recorded with moonlighting members of Motown's "Funk Brothers" providing the instrumentation.)
You've Made Me So Very Happy - Blood, Sweat & Tears (3/69; #2 - founding group member Dick Halligan played flutes and keyboards for the group, and he passed away on January 18th at the age of 78. Tonight we hear the extended LP version, with about 40 additional seconds of swirling organ lines.)
45 Corner: Indiana Wants Me - R. Dean Taylor (9/70; #5 - this Canadian singer/songwriter had one big hit as a performer and this is it. The version we hear tonight is an early pressing that includes an opening police siren. All subsequent pressings - and CD versions - removed that effect after receiving complaints from motorists and law enforcement officials concerned that it would cause traffic accidents. BTW, Taylor passed away on January 7th at age 82.)
Jamaica Farewell - Harry Belafonte (10/56; #14 - Harry is credited with introducing Americans to Calypso music. Tonight we hear the hard-to-find 45 version, which is a different take from most CD versions available.)

People Get Ready - Impressions (2/65; #14 Pop, #3 R&B - Curtis Mayfield turned an old gospel number into one of the greatest secular hits of the Sixties. Rolling Stone Magazine ranks it at #24 in their RS500.)

Hello Stranger - Barbara Lewis (5/63; #3 Pop, #1 R&B - those are The Dells providing the backing vocals on this enduring gem. The keyboard player is uncredited, but those organ licks add an unquantifiable layer of "cool" to the recording.)

The Coldest Night of the Year - Nino Tempo & April Stevens (2/65; dnc - this was penned by two Brill Building stalwarts, the singers were an established brother-and-sister duo, and it was recorded using some of LA's finest studio musicians. By all rights it should've been a big hit. Alas, it went nowhere.)
Love You Too - Sounds Nice ft. Tim Mycroft (11/69; dnc - this was the b-side of Love At First Sight, which was the instrumental version of the steamy Je T'Aime, Moi Non Plus by Serge Gainsborough and Jane Birkin. The latter was a #1 hit in the UK, but this one wasn't even released in the States. It's only 2 1/2 minutes long, but it's a gem!)

* Hungry - Paul Revere & The Raiders Featuring Mark Lindsay (6/66; #6 - another Mann & Weil composition that came blasting of radio speakers back in the day. Mark Lindsay was given top billing, and rightly so. This one goes out at Scottie's request, but I was planning to play it anyway! What are the odds...??!?)
5 D (Fifth Dimension) - The Byrds (7/66; #44 - Roger McGuinn got sole writer's credit on this one. Two in a a row on Columbia Records from the Summer of '66! It doesn't get a lot of play on Oldies radio, but it captures a moment in time and it really should....)

* Peace Train - Cat Stevens (9/71; #7 - as the distant rumblings of war are in the air, a listener from Vancouver requested this one. He actually wanted me to play the recent version by Playing for Change, but he knew my on-air restrictions. That's the beauty of the blog: here's the modern version!)
In My Room - Beach Boys (11/63; #23 - word started to spread a week ago that long-time WVBR DJ Heather Dunbar had quietly passed away at her home. Almost everyone in the WVBR family has Heather memories, and one of my favorites is of her love for this song. As a party DJ, she loved the magical ability for this song to lure teenagers onto the dance floor every time she played it. Let's give it one more spin in her honor. Thanks for your friendship, your loyalty and your mentoring. You are missed.)
7-8pm
Birthday Calendar
February 13 – Peter Tork (Monkees) – 1942
– Peter Gabriel – age 72

February 15 – Brian Holland – age 81

– Melissa Manchester – age 71
February 16 – Sonny Bono – born in 1935
February 17 – Tommy Edwards – born in 1922
– Gene Pitney – born in 1940

February 18 – Irma Thomas – age 81
– Robbie Bachman (BTO) – age 69
February 19 – Smokey Robinson – age 82
– Bobby Rogers (Miracles) – born in 1940
– Lou Christie – age 79
Shades of Grey - Monkees (4/67; dnc - Headquarters was the first album that the Monkees actually got to play on. This song was considered for release as a single, but they actually went with a Neil Diamond song that didn't appear on the album. Peter Tork plays the piano and delivers a heartfelt vocal performance on this one.)
For Pete's Sake - Monkees (4/67; dnc - this track opens Side Two of the above album, and an edited version was also chosen as the theme music for the closing credits for Season 2 of the show. Peter wrote it and plays the electric guitar intro.)
Solsbury Hill - Peter Gabriel (4/77; #68 - having had enough of Genesis, THIS Peter left the band and signed a solo deal with Atco Records. This was his only charting single for the label, and it became an FM Radio staple.)

But You're Mine - Sonny & Cher (10/65; #15 - Sonny was 11 years older than young Cher when he swept her off her feet. This was released as the follow-up to their #1 smash I Got You Babe, but it wasn't quite as compelling. Cher is still going strong, and she was clearly a better singer than Sonny.)
Midnight Blue - Melissa Manchester (5/75; #6 - she was a kid from the Bronx who studied songwriting with Paul Simon, and this was her first big hit. Happy Birthday to her!)

Spotlight on Brian Holland:
Detroit native Brian Holland is 81 years old this week. Along with his brother Eddie and their partner Lamont Dozier, they were one of the most prolific songwriter/production teams of the 1960s. Between their time at Motown and their subsequent stint at their own Invictus Records label, the team penned 145 hit records. Here come five representative samples....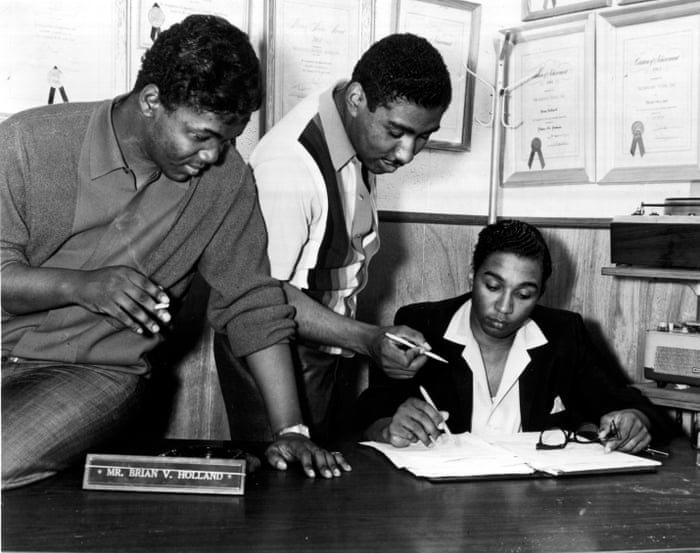 Baby Love - Supremes (10/64; #1 for four weeks - the Supremes had twelve #1 hits on the Hot 100. Holland-Dozier-Holland wrote and produced ten of them! This one also topped the chart in the UK, and was the second of 5 consecutive chart-toppers over here.)
This Old Heart of Mine (Is Weak for You) - Isley Brothers (2/66; #12 Pop, #6 R&B - this was the brothers' biggest hit of their Motown tenure, who'd eventually leave for bigger and better things with their own T-Neck Records label. This, though, is one of my favorite records of all-time - and tonight we hear it in breathtaking stereo.)
Jimmy Mack - Martha & The Vandellas (2/67; #10 Pop, #1 R&B - this one sat in the can for a couple of years until Martha forced a meeting with Berry Gordy to demand better attention than the group was getting - because the Supremes were suddenly getting all of the press and good material. This one had some vocal support added by The Andantes, and went straight to #1 on the R&B chart. Vindication for Martha - and another #1 for H-D-H!)
Baby, I Need Your Loving' - Johnny Rivers (2/67; #3 for two weeks - this had been the Four Tops' first big hit just two years prior, but Johnny Rivers made it his own. That's Hal Blaine on drums, along with the Wrecking Crew's finest - and Darlene Love & The Blossoms providing background vocals. Johnny's next release would be another cover of a Motown classic: Tracks of My Tears would reach #10 in June of 1967.)
Shake Me, Wake Me (When It's Over) - Four Tops (2/66; #18 Pop, #5 R&B - aside from the Supremes, these guys were the main beneficiaries of H-D-H's attention. This one was tucked into a string of records that helped define the Motown sound, and the Funk Brothers were at their funkiest on these sessions.)
Morning Side of the Mountain - Tommy Edwards (2/59; #27 - he was a stylish crooner with a voice like honey, and he'd be 100 years old this week if he hadn't died of complications from alcoholism as a younger man.)

Town Without Pity - Gene Pitney (11/61; #13 - this record won songwriter Gene Pitney a Golden Globe Award when it came out, and was also nominated for an Oscar. Unfortunately, so was Moon River. Still, this is one helluva record!)
Anyone Who Knows What Love Is (Will Understand) - Irma Thomas (7/64; #52 - she was known as The Soul Queen of New Orleans, and her most famous record was probably the original version of Time Is On My Side. This one, though, deserves to be heard again.)

Let It Ride - Bachman Turner Overdrive (2/74; #23 - his older brother Randy got most of the attention, but Robbie Bachman was a solid drummer, as you can hear on this driving Seventies classic.)

Shake Hands and Walk Away Crying - Lou Christie (4/67; #95 - Lou was trying to adapt to the changing times, so there are psychedelic elements to this song - but it also leans heavily on the formula that made Lightning Strikes a #1 hit. Somehow, though, record buyers weren't buying it.)

You've Really Got a Hold On Me - The Miracles (12/62; #8 Pop, #1 R&B - Smokey Robinson and Bobby Rogers were both born on the same day in the same hospital in Detroit back in 1940, and their two voices are entwined throughout this fine record. The Beatles were so enamored with it that they recorded it, too. Here's the original version.)
8-9pm
We kick off this hour with three requests: all of them #1 records!

* Lightnin' Strikes - Lou Christie (2/66; #1 - how can a song glorifying infidelity be so compelling? How about mixing Lou's shimmering falsetto with backing vocals from The Angels and adding thundering drums? This goes out to Abby and Mark listening in from Virginia. Check out the video!)
* War - Edwin Starr (8/69; #1 for three weeks - Motown churned out some powerful anti-war records back in the early Seventies, and this one clearly resonated with the record-buying public. Bruce Springsteen & The E Street Band would later chart with a live version as well. Going out at the behest of Gary in northern NJ.)

* My Eyes Adored You - Frankie Valli (3/75; #1 - ironically, Motown dropped the ball on this one: they had signed the 4 Seasons, who recorded this in 1974 for the MoWest label. The label declined to release it, so Frankie Valli shopped it around and Private Stock Records took a chance on it. Good move! Going out thanks to Tom on Long Island.)
You're Only Lonely - John David Souther (9/79; #7 - JD Souther was a denizen of the Laurel Canyon scene and had written a bunch of great songs for Linda Ronstadt and others. This was his big break as a solo artist, and is one of my favorites.)

They Don't Know - Tracey Ullman (2/84; #8 - she was a comedienne and the host of her own variety show. It turns out that she could sing, as well. She envisioned this Kirsty MacColl composition as a driving "girl group" tour de force - and even got a certain surprise guest to do a cameo in her video. Check it out!)
* Celluloid Heroes - The Kinks (11/72; dnc - this was released as a single from their Everybody's In Show Biz LP, but never took hold. Perhaps it was the 6+ minute length. Anyway, tonight you hear it thanks to Michael in Newfield. Cool tune!)

Say Goodbye to Hollywood - Ronnie Spector & The E Street Band (4/77; dnc - The Boss was embroiled in litigation, so he couldn't release any records during this time. In that vacuum, band member Steven Van Zandt decided to make something happen, so they took Ronnie Spector into the studio and recorded this Billy Joel composition that had apparently been inspired by Ronnie in the first place. She's quoted as saying "In a way it's my life story 'cause I was married in Hollywood, my life fell apart in Hollywood and now I am saying goodbye to Hollywood." Records were pressed, but never released. Enjoy!)
* How Can I Be Sure - Young Rascals (9/67; #4 - this soulful ballad was an occasional request from listeners David & Betsy, who would subsequently dance in thew kitchen if we played it. Eddie Brigati sings it, and it goes out as a dedication from Shella, who misses her friends.)

In and Out of Love - Diana Ross & The Supremes (11/67; #9 - this was the second single to give Diana separate billing, and she already had one foot out the door on the way to becoming a solo artist. Mary Wilson and Cindy Birdsong are supplemented with support from the Andantes on this bouncy confection. It would be the final Top Ten record with all three of their voices together.)
Here It Comes Again - The Fortunes (11/65; #27 - this follow-up to You've Got Your Troubles has been lost to time, but it follows a similar formula. My sources tell me that you'll hear its predecessor on JR's show two weeks from now. Shhh....)

Touch a Hand, Make a Friend - Staple Singers (2/74; #23 Pop, #3 R&B - this is another fine record featuring the stirring vocals of Mavis Staples and the guitar licks of her father "Pops." They specialized in inspirational songs promoting unity and harmony. I'll be back next month.)

CLOSING THEME: Sleepwalk – Santo & Johnny (1959, #1 for two weeks)
Trivia Answer
Sonny Bono is the only member of Congress to have scored a #1 hit on the Billboard Hot 100. The song was "I Got You Babe," and you can hear it - again and again and again - in the film "Groundhog Day."

Congratulations to Michael from Newfield, for correctly answering the question and winning a pair of passes to Cinemapolis!
dnc = did not chart
nr = not released as a single at the time
AC = Billboard's chart for "Adult Contemporary" records
BB = Billboard Magazine, which publishes the Hot 100 chart (previously known as the Top 100), along with several other charts
Bubbling Under = songs that were ranked but fell below the top 100
C&W = Billboard's chart for "Country & Western" records
R&B = Billboard's chart for "Rhythm & Blues" records
RRHOF = Rock and Roll Hall of Fame
RS500 = Rolling Stone Magazine's ranked list of the top 500 singles of all-time
Host Next Week (2/26/22): Kim Vaughan with a spotlight called "Wants and Needs." Send song suggestions to rockinremnants@wvbr.com!

Thanks for tuning in! You can listen to Rockin' Remnants every Saturday night from 6-9pm on WVBR (93.5 FM in Ithaca, NY) or at wvbr.com/listen.
Thanks again to our sponsors Island Health & Fitness and Rasa Spa for their support every week!