Rockin' Remnants is broadcast from WVBR-FM Ithaca. Check out our
webpage
, like us on
Facebook
, and tune in to 93.5 or
stream
the show every Saturday night from 6-9pm! (Or download the WVBR+
app
now available for iOS and Android!)
Date: May 19, 2018
Host: JH (Jan Hunsinger)
Feature: Mini-themes
Playlist
[Playing the #1 songs based on weeks at the top of the chart, from 1955 to 1975, in some years there were ties; songs with * were requests; all chart information comes from the Billboard Top 100 (for chart dates before/during July 1958) or Billboard Hot 100 (for chart dates during/after Aug 1958) unless otherwise noted]
6pm-7pm
OPENING THEME: Good Old Rock 'n' Roll – Cat Mother & the All-Night Newsboys (1969 - #29: produced by Jimi Hendrix)
Mining Songs Mini-Theme
Timothy - The Buoys (1971 - #17: one-hit wonder for the group from nearby Wilkes-Barre, Pa; Rupert Holmes of The Street People and the Pina Colada Song was their composer/arranger)
16 Tons - "Tennessee" Ernie Ford (1955 - #1: song was a huge smash for Ford, staying at #1 for 8 weeks and on the charts for 27)
New York Mining Disaster - The Bee Gees (1967 - #14: the first of 43 Hot 100 singles for the brothers Gibb)
Working in the Coal Mine - Lee Dorsey (1966 - #8: Dorsey was a prizefighter known as "Kid Chocolate" in the early 1950s)
Big Bad John - Jimmy Dean (1961 - #1: song spent 5 weeks at #1 and won Dean a Grammy for Country Song; we heard the risque version which ends: "At the bottom of this mine lays one hell of a man, Big John")
*Tracks of My Tears - Smokey Robinson and the Miracles (1965 - #16: listener called in to say that he read a mis-heard lyric of this song inspired The Zombies to record "Tell Her No"; song is #50 on the Rolling Stone 500 Greatest Songs list)
*Poison Ivy - The Coasters (1959 - #7:big hit for "The Clown Princes of Rock" written by Lieber and Stoller; Jerry Lieber said that the song is a metaphor for an STD)
Rain Songs Mini-Theme
Buy for Me the Rain - Nitty Gritty Dirt Band (1967 - #45: song from their first album that peaked on May 6 of 1967)
Don't Let the Rain Fall Down on Me - The Critters (1967 - #39: one of only two songs to make the Top 40 by th group out of Plainfield, NJ)
I Can Turn Off the Rain - The Grass Roots (1971 - UC: song was on the flip side of "Sooner or Later")
Rainy Jane - Davy Jones (1971 - #52: post-Monkees single for Jones; song was co-written by Neil Sedaka)
45 Corner
Rain - The Beatles (1966 - #23: the "B" side of "Paperback Writer" and the first song to feature backward tape loops; we heard the Odeon label 45 which was made in Germany)
Medicine Man - The Buchanan Brothers (1969 - #22: the Buchanan Brothers were really Dennis Minogue ("Terry Cashman") and Thomas Picardo ("Tommy West"))
Fire - Crazy World of Arthur Brown (1968 - #2: Brown was born in Whitby, England; the band was known for its psychedelic rock and Brown's outlandish performances and is still touring in 2018)
I Wonder What She's Doing Tonight? - Boyce and Hart (1967 - #8: Tommy Boyce and Bobby Hart wrote and produced for the Monkees but had this hit for themselves)
I Will Always Think About You - New Colony Six (1968 - #22: hit for the soft-rock group out of Chicago)
Birthday Calendar
May 13:
Ritchie Valens (Richard Steven Valenzuela) born 1941
Mary Wells - born 1943
Stevie Wonder (68)
May 14:
Bobby Darin (Walden Robert Cassotto) born 1936
Derek "Lek" Lekenby (Herman's Hermits guitarist) born 1943
Jack Bruce (Cream bassist) born 1943
May 15:
Eddy Arnold - born 1918
Trini Lopez (81)
Mike Oldfield (65)
May 16:
Barbara Lee (The Chiffons) born 1947
May 17:
Malcolm Hale (Spanky and Our Gang guitarist) born 1941
May 18:
Big Joe Turner (Joseph Vernon Turner, Jr) born 1911
Perry Como (Pierino Ronald Como) born 1912
Albert Hammond (74)
Rick Wakeman (Yes keyboardist) (69)
May 19:
Pete Townsend (73)
Jerry Hyman (Blood, Sweat, & Tears trombonist) (71)
Fast Freight - Ritchie Valens (UC - 1959: posthumous release featuring Valens on Stratocaster guitar)
Two Lovers - Mary Wells (1962 - #7: Wells was the first artist to have a Top 10 and #1 single for Motown records)
A Place in the Sun - Stevie Wonder (1966 - #9: song was written by Ronald Miller and Bryan Wells)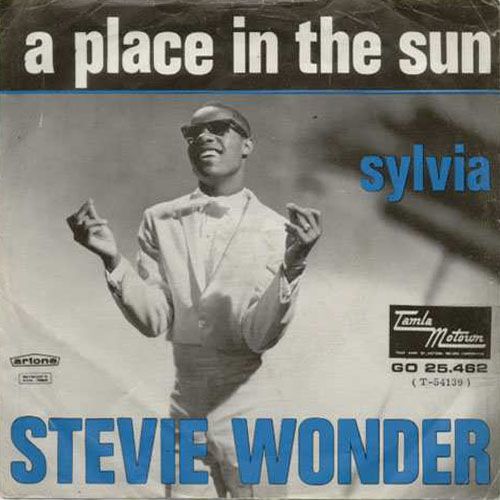 Things - Bobby Darin (1962 - #3: Darin was with Bobby Kennedy at the Ambassador Hotel on the night of his assassination in 1968)
A Must to Avoid - Herman's Hermits (1965 - #8: song was written by P.F. Sloan and Steve Barri, who also wrote "Secret Agent Man" and "Eve of Destruction")
Badge - Cream (1969 - #60: song was co-written by Eric Clapton and George Harrison; Clapton mis-read Harrison's note of "Bridge" on the sheet music and said, "What's Badge"?, giving the song its title)
The Cattle Call - Eddy Arnold (1955 - #69: the first pop chart record for "The Tennessee Plowboy")
If I Had a Hammer - Trini Lopez (1963 - #3: one of 13 Hot 100 chart singles for the folk singer who was also in the movie "The Dirty Dozen")
Tubular Bells - Mike Oldfield (1974 - #7: theme song for the movie "The Exorcist"; album version was 49 minutes long)
I Have a Boyfriend - The Chiffons (1963 - #36: song that was playing on Dallas radio station KLIF that was interrupted with the bulletin that President John F. Kennedy had been shot)
Like to Get to Know You - Spanky and Our Gang (1968 - #17: Hale was the musical genius for the group and his death led to them breaking up)
Honey Hush - Big Joe Turner (1959 - #53: influential blues shouter from Kansas City)
It's A Good Day - Perry Como (1955 - UC: song was co-written by Peggy Lee in 1946; Como's version was used in the 1999 movie "Blast From the Past")
I'm a Train - Albert Hammond (1974 - #37: Hammond has enjoyed great success as a songwriter, writing "Little Arrows" for Leapy Lee and "The Air That I Breathe" for the Hollies, among others)
Morning Has Broken - Cat Stevens (1972 - #6: Rick Wakeman played the distinctive piano part on the song)
The Kids Are Alright - The Who (1966 - #85: would later be used for the title for a documentary of the band in 1979)
God Bless the Child - Blood, Sweat, & Tears (1968 - Jerry Hyman provided the trombone solo for the group's cover of the classic song)
Grass Songs Mini-Theme
Grazing in the Grass - Friends of Distinction (1969 - #3: song was an instrumental hit for Hugh Masekela in 1968; Friends band member Harry Elston added the lyrics)
Green Green Grass of Home - Tom Jones (1966 - #11: Jones recorded the song after hearing Jerry Lee Lewis's 1965 recording)
Don't Let the Green Grass Fool You - Wilson Pickett (1971 - #17: song was a million seller for 'Wicked Pickett')
And the Grass Won't Pay No Mind - Mark Lindsay (1970 - #44: cover of a Neil Diamond song by the former Paul Revere and the Raiders frontman)
The Other Man's Grass Grass Is Always Greener - Petula Clark (1967 - #31: another Clark hit by writer Tony Hatch)
Green Grass - Gary Lewis and the Playboys (1966 - #8: Gary now lives in nearby Rochester and makes occasional appearances there)
*Green-Eyed Lady - Sugarloaf (1970 - #3: original single was 5:58 in length, but it was trimmed to 3:33)
*Have I the Right? - The Honeycombs (1964 - #5: part of the British Invasion, the group featured a rarity of the time - a female drummer)
Shape Songs Mini-theme:
Shapes of Things - Max Frost and the Troopers (1968 - #22: group only existed in the studio, created for the movie "Wild in the Streets")
Love's Lines, Angles and Rhymes - 5th Dimension (1971 - #19: title track from the 1971 LP)
Shapes of Things - The Yardbirds (1966 - #11: Jeff Beck used guitar feedback on the song, which was co-written by Keith Relf; when the Yardbirds broke up Relf went on to form Renaissance, group which appeared at the Hangar Theater on May 12)
Bend Me, Shape Me - The American Breed (1967 - #5: song was originally recorded by The Outsiders)
Can't Get Enough of Your Love - Barry White (1974 - #1: White wrote, recorded, and produced this big hit)
CLOSING THEME: Sleepwalk – Santo & Johnny (1959, #1 for two weeks)
Host Next Week: (5/26) - Kim Vaughn (KV).
Thanks for tuning in! You can listen to Rockin' Remnants every Saturday night from 6-9pm on WVBR (93.5 FM in Ithaca, NY) or streaming
here
.