Rockin' Remnants is broadcast from WVBR-FM Ithaca. Check out our
webpage
, like us on
Facebook
, and tune in to 93.5 or
stream
the show every Saturday night from 6-9pm! (Or download the WVBR+
app
now available for iOS and Android!)
Date: January 20, 2018
Host: JH
Feature: Nuggets: Original Artyfacts from the First Psychedelic Era: 1965-68
Playlist
[Playing the #1 songs based on weeks at the top of the chart, from 1955 to 1975, in some years there were ties; songs with * were requests; all chart information comes from the Billboard Top 100 (for chart dates before/during July 1958) or Billboard Hot 100 (for chart dates during/after Aug 1958) unless otherwise noted]
6pm-7pm
OPENING THEME: Good Old Rock 'n' Roll – Cat Mother & the All-Night Newsboys (1969, #29, produced by Jimi Hendrix)
Tonight's spotlight feature is Nuggets: Original Artyfacts From the First Psychedelic Era 1965-68. Assembled by future Patti Smith guitarist Lenny Kaye, Nuggets was released as a double album in 1972 on Elektra records. It featured American psychedelic and garage rock singles, and the liner notes written by Kaye included one of the first uses of the term "punk rock". Rolling Stone magazine voyed the album #196 on its list of the 500 Greatest Albums of All Time. Subsequent re-issues include: a fifteen installment series in the 1980s; a 4 CD box set in 1998; a 2000 single CD compilation entitled "Nuggets From Nuggets" based on the 4 CD box set; and a 2006 single CD of the original 1972 release, all on Rhino Records. It is the 2006 release that is being played tonight. Past DJ Bobby Comstock played Nuggets on Rockin' Remnants in the late 80s, so it's time to do it again!
I Had Too Much to Dream (Last Night) - The Electric Prunes (1967 - #11: garage rock at its finest with oscillating guitar opening the song)
Dirty Water - The Standells (1966 - #11: Although the song is about Boston, The Standells were out of LA; the song is beloved in Boston and is often played following victories by the city's professional sports teams)
Night Time - The Strangeloves (1965 - #30: The Strangeloves were Bob Feldman, Jerry Goldstein, and Richard Gottehrer, who put on the personas of Giles, Miles, and Niles Strange, sheepherders from Australia)
Lies - The Knickerbockers (1965 - #20: the group out of Bergenfield, NJ was seen regularly on Dick Clark's Where the Action Is and had a hit with this Beatlesesque tune)
Respect - The Vagrants (1967 - UC: although a regional hit on the East Coast, Aretha Franklin's release of the song a month later doomed The Vagrants' version; group featured young guitarist Leslie West, who left the group in 1969 to form Mountain)
A Public Execution - Mouse (1966 - #121: Dylanesque tune from the group out of Tyler, Texas)
*San Francisco Girls - Fever Tree (1968 - #91: not on Nuggets, but this listener request fits the era and the genre)
No Time Like the Right Time - The Blues Project (1966 - UC: group of Greenwich Village musicians formed in 1965 that included Al Kooper and Steve Katz, who would leave to form Blood, Sweat, and Tears; remaining members of group would reform as Seatrain [13 Questions])
Oh Yeah - The Shadows of Night (1966 - #39: group that said it took a British version of the blues and gave it a Chicago touch; biggest hit was a cover of "Gloria")
Pushin' Too Hard - The Seeds (1967 - #36: The Seeds are credited with creating the term "Flower Power" and are seen as precursors to punk rock)
Moulty - The Barbarians (1966 - #90: song tells the story of how drummer Victor "Moulty" Moulton lost his left hand; a prosthetic allowed him to hold a drum stick)
Don't Look Back - The Remains (1966 - UC: popular Boston-area band that opened for the Beatles on their final American tour in 1966; group broke up in late 1966 but reformed in 1998 and still performs)
45 Corner
Tear Drop City - The Monkees (1969 - #56: written and produced by Tommy Boyce and Bobby Hart off the "Instant Replay" LP, released after Peter Tork left the group; does not appear on any single-CD "Greatest Hits" - a true lost classic)
An Invitation to Cry - The Magicians (1966 - UC: though the group was short-lived, members Alan Gordon and Garry Bonner would gain fame as songwriters, most notably "Happy Together" for the Turtles; group member Mike Appel would go on to become Bruce Springsteen's first manager)
Liar, Liar - The Castaways (1965 - #12: only hit for the group, song was used in the movie "Good Morning Vietnam")
Birthday Calendar
January 14: Clarence Carter - 82
Jack Jones - 80
January 15: Ronnie Van Zant - born 1948
January 16: Barbara Lynn (Ozen) - 76
Jim Stafford - 74
January 17: Chris Montez (Ezekiel Christopher Montenez) 75
Mick Taylor (Rolling Stones guitarist 1969-74) - 70
January 18: Bobby Goldsboro - 77
David Ruffin (Temptations) born 1941
January 19: Phil Everly - born 1938
Janis Joplin - born 1943
Dolly Parton - 72
Lee Martin "Dewey" Bunnell (America) - 66
January 20: Huddie William Ledbetter (Lead Belly) - born 1888
William Powell (O'Jays) - born 1977
Paul Stanley (Stanley Bert Eisen - Kiss) - 66
60 Minute Man - Clarence Carter (1973 - #65: his cover of the 1951 hit by the Dominoes)
Wives and Lovers - Jack Jones (1963 - #14: song that capturres the attitudes of the "Madmen" era; Jack Jones even looks a bit like Don Draper)
Saturday Night Special - Lynyrd Skynyrd (1975 - #27: song that associates cheap handguns with impulsive violence)
You'll Lose a Good Thing - Barbara Lynn (1962 - #8: Lynn wrote this song that also went to #1 on the R & B charts)
My Girl Bill - Jim Stafford (1974 - #12: Stafford wrote this song about a love triangle and has an ending with a surprise twist)
The More I See You - Chris Montez (1966 - #16: Montez cover of song written in 1945; it has been used in several movies, including "Frantic" with Harrison Ford)
Brown Sugar - The Rolling Stones (1971 - #1: song came in at #490 on Rolling Stone magazine's 500 Greatest Songs of All Time)
I'm a Drifter - Bobby Goldsboro (1969 - #46: Goldsboro wrote this tune; he played guitar for Roy Orbison from 1962 to 1964)
My Girl - The Temptations (1965 - #1: RS magazine voted David Ruffin one of its 100 Greatest Singers; song was #88 of RS 500 Greatest Songs)
On the Wings of a Nightingale - Everly Brothers (1984 - #50: their last charting single, written by Paul McCartney; a bit out of the Rockin' Remnants era but an overlooked tune)
Get It While You Can - Janis Joplin (1971 - #78: the last song off her posthumous album "Pearl")
Jolene - Dolly Parton (1973 - #60: crossover hit for artist with 25 country #1s)
Tin Man - America (1974 - #4: George Martin produced and played piano on this Dewey Bunnell written song)
Goodnight Irene - The Weavers (1950 - #1: song written by Lead Belly ["King of the 12 String Guitar"] that topped the charts for 13 weeks; Ken Kesey made the line "Sometimes a Great Notion" into the title of arguably his greatest novel)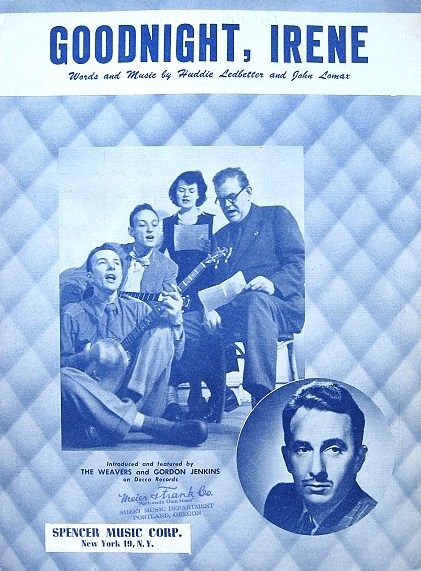 Cotton Fields - The Beach Boys (1970 - UC: Lead Belly tune produced and sung by Beach Boy Al Jardine that did much better in the UK, where it reached #5)
992 Arguments - O'Jays (1972 - #57: according to allmusic.com, urban DJs played this song from the "Backstabbers" LP so much that the record company released it as a single)
Hard Luck Woman - Kiss (1976 - #25: "Starchild" Stanley wrote the song for someone like Rod Stewart to sing, but after success of "Beth" the group recorded it with Peter Criss doing the vocals)
Back to our feature: "Nuggets"
You're Gonna Miss Me - 13th Floor Elevators (1966 - #55: written by singer-songwriter Roky Erickson, a founding member of the group)
Psychotic Reaction - Count Five (1966 - #5: one of the first successful psychedelic rock songs)
Hey Joe - The Leaves (1966 - #31: group inspired by the Beatles; co-founder and bassist Jim Pons would go on to play with the Turtles and the Mothers of Invention; Jimi Hendrix made the song famous)
Romeo & Juliet - Michael & the Messengers (1965 - UC: cover of the hit by the Reflections by the group out of Milwaukee)
Sugar and Spice - The Cryan Shames (1966 - #49: their cover of Searchers song written by Tony Hatch; two original members still perform under the group's name; and another group with a member who had a prosthesis)
Baby Please Don't Go - The Amboy Dukes (1967 - #106: song written by Big Joe Williams in 1935; group featured Ted Nugent)
Tobacco Road - The Blues Magoos (1966 - UC: group would find success with their next single, "We Ain't Got Nothin' Yet")
Let's Talk About Girls - The Chocolate Watchband (1967 - UC: garage band with a harder edge that broke up in 1969, reformed in 1999, and is still performing)
Sit Down I Think I Love You - The Mojo Men (1967 - #36: cover of Buffalo Springfield tune written by Stephen Stills, done in baroque style; group had a female drummer)
Run Run Run - The Third Rail (1967 - #53: group included Joey Levine, who would go on to sing for The Ohio Express ("Yummy, Yummy, Yummy") and Reunion ("Life Is a Rock, (But the Radio Rolled Me"))
My World Fell Down - Sagittarius (1967 - #70: group of studio musicians with Glen Campbell taking the uncredited lead vocal)
Last three songs from the original Nuggets omitted due to time constraints:
Open My Eyes - Nazz (1968 - UC: featuring a young Todd Rundgren who wrote the song)
Farmer John - The Premiers (1964 - #19: The Premiers opened for The Kinks, The Rolling Stones, and the Dave Clark Five)
It's A-Happening - The Magic Mushrooms (1966 - #93: five guys from the University of Pennsylvania)
From the Nuggets From Nuggets CD:
Shape of Things to Come - Max Frost and the Troopers (1968 - #22: song written by Barry Mann and Cynthia Weil for the movie "Wild in the Streets")
CLOSING THEME: Sleepwalk – Santo & Johnny (1959, #1 for two weeks)
Host Next Week: (1/27): KV, hosting her 5th Anniversary Show!
Thanks for tuning in! You can listen to Rockin' Remnants every Saturday night from 6-9pm on WVBR (93.5 FM in Ithaca, NY) or streaming
here
.