Host: Jan Hunsinger (JH)
Date: November 23, 2019
Spotlight: Country Crossovers - songs by Country artists that crossed over to the Pop charts!
Rockin' Remnants is broadcast from WVBR-FM Ithaca. Check out our
webpage
, like us on
Facebook
, and tune in to 93.5 or
stream
the show every Saturday night from 6-9pm! (Or download the WVBR+
app
now available for iOS and Android!)
Thanks to our sponsors Island Health & Fitness and Rasa Spa for their support every week!
·
songs with * were requests
·
all chart information comes from the Billboard Top 100 (for chart dates before/during July 1958) or Billboard Hot 100 (for chart dates during/after Aug 1958) unless otherwise noted
·
a glossary of terms is below the playlist
OPENING THEME: Good Old Rock 'n' Roll – Cat Mother & the All-Night Newsboys (1969 - #29: produced by Jimi Hendrix)
[Background music: On the Rebound - Floyd Cramer (1961 - #4: Cramer was a Nashville session piano player who worked with most of the big names in country music, most notably Patsy Cline)]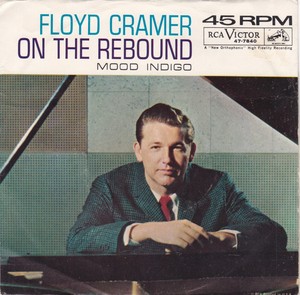 Ring of Fire - Johnny Cash (1963 - #17: June Carter wrote the song about her love for Johnny when they were both married to other people; Johnny added the Mariachi horns when he recorded the tune; #89/RS500)
Sunday Morning Coming Down - Johnny Cash (1970 - #46: Cash first performed the song, written by Kris Kristofferson, on his TV show; CBS officials did not want him to sing the line, "I'm wishing Lord that I was stoned," but Cash sang it anyway)
For the Good Times - Ray Price (1970 - #11: another hit written by Kristofferson for 'The Cherokee Cowboy')
Help Me Make it Through the Night - Sammi Smith (1971 - #8: another hit written by Kristofferson, a Rhodes Scholar who turned down a teaching position at West Point to become a Nashville songwriter)
El Paso - Marty Robbins (1960 - #1: written by Robbins, the song had a 4:19 LP version, a 2:58 'A' side single version, and a full-length, 4:38 'B' side single version which DJs ended up playing)
Ode to Billy Joe - Bobbie Gentry (1967 - #1: song topped the charts for 4 weeks and ranks #412/RS500)
Tiger by the Tail - Buck Owens (1965 - #25: Owens co-wrote the song with Harlan Howard; Owens was a pioneer of the Bakersfield Sound: country music influenced by rock and roll with electronic instrumentation and a back beat)
*I Don't Need No Doctor - New Riders of the Purple Sage (1972 - #81: the NRPS were a San Francisco country-rock band; the song, written by the songwriting team of Ashford and Simpson, was covered by Ray Charles in 1966)
Your Cheatin' Heart - Ray Charles (1962 - #29: his cover of the Hank Williams classic from his landmark, genre-mixing LP "Modern Sounds in Country & Western Music")
45 Corner
Luckenbach Texas - Waylon Jennings (1977 - #25: RCA #10924; Jennings got a guest vocal from is friend Willie Nelson)
To Daddy - Emmylou Harris (1977 - #102: cover of Dolly Parton tune by the legendary country singer)
Jolene - Dolly Parton (1974 - #60: Parton wrote the tune about asking the title character not to steal her man; #217/RS500)
(I Never Promised You A) Rose Garden - Lynn Anderson (1970 - #3: song written by Joe South that won Anderson a Grammy)
[Background music: Last Date - Floyd Cramer (1960 - #2)
November 17:
Gordon Lightfoot - 81
Gene Clark (The Byrds) - born 1941
Bob Gaudio (The Four Seasons) - 77
November 18:
Hank Ballard - born 1927
November 19:
Dave Guard (The Kingston Trio) - born 1934
Hank Medress (The Tokens) - born 1938
Warren 'Pete' Moore (The Miracles) - born 1938
Fred Lipsius (Blood, Sweat, & Tears) - 76
Joe Correro (Paul Revere/the Raiders) - 73
November 20:
Dick Smothers - 80
Dr. John (Malcolm John Rebennack) - born 1941
Norman Greenbaum - 77
Duane Allman - born 1946
Joe Walsh - 72
November 21:
Ollie Imogene 'Jean' Shepard - born 1933
November 22:
Jesse Colin Young ('Perry Miller') - 78
Tina Weymouth (Talking Heads) - 69
November 23:
Betty Everett - born 1939
Race Among the Ruins - Gordon Lightfoot (1977 - #65: from his "Summertime Dream" LP)
I'll Feel a Whole Lot Better - The Byrds (1965 - #103: Gene Clark wrote and sang lead on the song that was the B side of "All I Really Want to Do")
Sherry - The Four Seasons (1962 - #1: Bob Gaudio said he wrote the song in 15 minutes; it was originally entitled "Jackie Baby" and was inspired by First Lady Jacqueline Kennedy - that was the answer to our Rockin' Remnants/Carriage House gift card Trivia Question)
Finger Poppin' Time - Hank Ballard/The Midnighters (1960 - #7: Ballard wrote the tune that was helped by the Twist craze)
Scotch & Soda - The Kingston Trio (1962 - #81: Dave Guard learned of this song when he was dating star pitcher Tom Seaver's older sister; although they searched for the Trio was unable to find the song's author, and Guard copyrighted it in 1959)
The Lion Sleeps Tonite - The Tokens (1961 - #1: Hank Medress was a founder of the group)
Going to a Go-Go - The Miracles (1966 - #11: 'Pete' Moore was a childhood friend of Smokey Robinson, he sang bass for the group and co-wrote many hits)
Spinning Wheel - Blood, Sweat, & Tears (1969 - #2: the arrangement of the song by Lipsius won a Grammy; "The Love Theme from Romeo and Juliet" and "In the Year 2525" kept the song out of the top spot)
I Had a Dream - Paul Revere/The Raiders (1967 - #17: we heard the original 45 of the song)
Jenny Brown - The Smothers Brothers (1963 - #84: Dick was the straight man and played upright bass for the duo; this version of the song was from their live act in 1964 and was a parody of early '60s teenage tragedy songs)
Right Place, Wrong Time - Dr. John (1973 - #9: song included the line "Brain salad surgery," which Emerson, Lake, & Palmer turned into an album title)
Spirit in the Sky - Norman Greenbaum (1970 - #3: song was used in flight by Apollo astronauts and ranks #333/RS500)
Ain't Wastin' Time No More - The Allman Brothers (1972 - #77: Gregg Allman wrote the song about his brother Duane after the latter's early death)
Slippin' Away - Jean Shepard (1973 - #81: a pioneer of female country musicians, Shepard had 73 charting country singles; she married country star Hawkshaw Hawkins, who died in the plane crash with Patsy Cline in 1963)
Sunlight - The Youngbloods (1969 - #114, 1971 - #123: Jesse Colin Young wrote the song that 'Bubbled Under' on the BB Hot 100 twice)
Psycho Killer - The Talking Heads (1977 - #92: Tina Weymouth's terse bass lines helped define the group's sound)
You're No Good - Betty Everett (1963 - #51: original version of song that Linda Ronstadt took to #1 in 1975, it was released on this date in 1963, Everett's 24th birthday; as for "The Shoop Shoop Song" Everett thought it was childish)
Sea of Heartbreak - Don Gibson (1961 - #21: known as "The Sad Poet", Gibson had 82 country charting singles over 4 decades)
*Looking for Space - John Denver (1976 - #29: from his "Windsong" LP)
Make the World Go Away - Eddie Arnold (1965 - #6: written by Hank Cochran, the song became Arnold's signature hit)
Four Strong Winds - Bobby Bare (1964 - #60: written by Ian Tyson in 1961, it was voted the Greatest Canadian Song of All Time in a 2005 radio poll)
Blue Eyes Crying in the Rain - Willie Nelson (1975 - #21: song was written by Fred Rose in 1945; from Willie's classic "Red-Headed Stranger" LP which boosted him to stardom as a solo artist; #302/RS500)
Crazy - Patsy Cline (1961 - #9: #85/RS500, written by Willie Nelson and produced by Owen Bradley with Floyd Cramer on piano; epitomized the Nashville Sound)
Funny How Time Slips Away - Jimmy Elledge (1961 - #22: another tune from the pen of Willie Nelson)
Hello Walls - Faron Young (1961 - #12: made #1 and spent 23 weeks on the country charts; Willie Nelson's first big songwriting hit)
*King of the Road - Roger Miller (1965 - #4: Miller began his musical odyssey in Nashville by working as a hotel bellhop)
Wichita Lineman - Glen Campbell (1968 - #3: written by Jimmy Webb, the song ranks #192/RS500)
I Walk the Line - Johnny Cash (1956 - #17: Rolling Stone listed it #30 on its 500 Greatest Songs of All Time but also #1 of country songs)
CLOSING THEME: Sleepwalk – Santo & Johnny (1959 - #1 for two weeks)
nr
= not released as a single at the time
AC
= Billboard's chart for "Adult Contemporary" records
BB
= Billboard Magazine, which publishes the Hot 100 chart (previously known as the Top 100), along with several other charts
Bubbling Under
= songs that were ranked but fell below the top 100
C&W
= Billboard's chart for "Country & Western" records
R&B
= Billboard's chart for "Rhythm & Blues" records
RRHOF
= Rock and Roll Hall of Fame
RS500
= Rolling Stone Magazine's ranked list of the top 500 singles of all-time
Host This Week (11/30/19): John Simon (JS) will spotlight female artists with a "Ladies' Night"!
Thanks for tuning in! You can listen to Rockin' Remnants every Saturday night from 6-9pm on WVBR (93.5 FM in Ithaca, NY) or streaming
here
.
Thanks again to our sponsors Island Health & Fitness and Rasa Spa for their support every week!