Rockin' Remnants





Rockin' Remnants is broadcast from WVBR-FM Ithaca. Check out our
webpage
, like us on
Facebook
, and tune in to 93.5 or
stream
the show every Saturday night from 6-9pm! (Or download the WVBR+
app
now available for iOS and Android!)




Date: December 24, 2016
Host: Jan Hunsinger and Kim Vaughan
Feature: Christmas and Winter
Birthday Calendar
Dec 21 – Carla Thomas – age 74
– Carl Wilson (Beach Boys) – born in 1946
Playlist
[

yellow

song titles are YouTube links; songs with * were requests; all chart information comes from the Billboard Top 100 (for chart dates before/during July 1958) or Billboard Hot 100 (for chart dates during/after Aug 1958) unless otherwise noted]
6-7pm
OPENING THEME: Good Old Rock 'n' Roll – Cat Mother & the All-Night Newsboys (1969, #29, produced by Jimi Hendrix)
Pictures Of Matchstick Men – Status Quo (#12 - 1968: in honor of guitarist Rick Parfitt, who passed away today; although only a one-hit wonder band in the USA, Status Quo has had an over 50 year career in the UK!)
I Heard The Bells On Christmas Day – Johnny Cash
Little Shepherd Of Kingdom Come – Jimmie Rodgers
* Rockin' Around The Christmas Tree – Brenda Lee ("Little Miss Dynamite

" was only 14 years old when she recorded this perennial Christmas favorite; it has sold over 25 million copies)
I Want A Rock And Roll Guitar – Johnny Preston
Santa, Teach Me To Dance – Debbie & the Darnells
You're All I Want For Christmas – Brook Benton
Dreidel – Don McLean (#21 - 1973: in honor of the first day of Hanukkah)
O Holy Night – The Orioles (early Christmas doo-wop)
The Twelve Gifts Of Christmas – Allen Sherman
[45 Corner] – If It Doesn't Snow On Christmas – Gene Autry (flip side of the 45 Rudolph the Red-Nosed Reindeer

from 1949

)
I'm Gonna Build A Snowman – Diane Ray
Snowflakes And Teardrops – The Angels
Cold, Cold Winter – The Pixies Three
All Winter Long – Linda Laurie
Winter Weather – Ronny & the Daytonas
7-8pm
All I Want For Christmas Is You – Carla Thomas
* Little Saint Nick – The Beach Boys
White Christmas – The Drifters (Clyde McPhatter on lead vocals)
We Need a Little Christmas – New Christy Minstrels
Christmas Won't Be The Same This Year – Jackson Five
* New York's A Lonely Town – The Tradewinds (#32 - 1965: surf sound pop from the group out of Providence, R.I.)
The Christmas Blues – Dean Martin
Mister Scrooge – The Orchids
* Blue Christmas – Patti LaBelle & the Bluebelles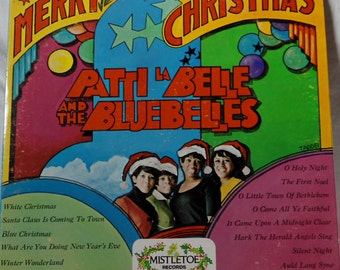 Ol' Saint Nicholas – Doris Day
It's Christmas Once Again – Frankie Lymon
Carol Of The Bells – Johnny Mathis
Shake Hands With Santa Claus – Louis Prima
* Christmas (Baby Please Come Home) – Darlene Love
(

featuring the classic Phil Spector Wall of Sound)
Christmas In Jail – The Youngsters
Christmas Shopping – Buck Owens
* Snoopy's Christmas – The Royal Guardsmen
* A Holly Jolly Christmas – Burl Ives
* Feliz Navidad – Jose Feliciano
8-9pm
Here Comes Santa Claus – Elvis Presley
Go Tell It On The Mountain – Bobby Darin
Silver Bells – Jim Reeves
Santa Looked A Lot Like Daddy – Buck Owens
Mrs. Santa Claus – Nat King Cole
Mambo Santa Mambo – The Enchanters
Jingle Bells – Smokey Robinson & the Miracles
Mistletoe And Holly – Jack Jones
'Zat You, Santa Claus – Louis Armstrong & the Commanders
Parade Of The Wooden Soldiers – The Crystals
We Wanna See Santa Claus Do The Mambo – Big John Greer
Merry Christmas Baby – Otis Redding
A Warm Little Home On The Hill – Stevie Wonder
All I Want For Christmas Is My Two Front Teeth – Spike Jones & his City Slickers
Give Love On Christmas Day – Jackson Five
Silent Night – The Temptations
Deck The Halls – Jackie Wilson
I Wish You A Merry Christmas – Big Dee Irwin & Little Eva
CLOSING THEME: Sleepwalk – Santo & Johnny (1959, #1 for two weeks)
Prize Winner
Congratulations to Pam from Moravia, for calling in and winning 5 guest passes to Island Health and Fitness!
Host Next Week (Dec 31): John Rudan with a spotlight on 45s
Thanks for tuning in! You can listen to Rockin' Remnants every Saturday night from 6-9pm on WVBR (93.5 FM in Ithaca, NY) or streaming
here
.