Rockin' Remnants




Rockin' Remnants is broadcast from WVBR-FM Ithaca. Check out our webpage, like us on Facebook, and tune in to 93.5 or stream the show every Saturday night from 6-9pm! (Or download the WVBR+ app now available for iOS and Android!)
Thanks to our sponsors Island Health & Fitness and Rasa Spa for their support every week!
Date: 11/26/22

Host: John Simon

Feature: Records That Shaped The DJ
Today is my actual birthday and I've decided to play some of the records that have been most influential in shaping my trajectory. Growing up on the border of Washington Heights and Harlem in NYC, music became both a refuge and my salvation - and later my livelihood. Starting with songs that I remember from my kitchen radio and our little family Victrola, right up through my high school years and beyond: my first 45! the first song I learned to play on the guitar! my favorite B-side! the first dance at my wedding!
All of this, plus a truncated version of the Birthday Calendar, a couple of 45 Corner offerings, plus your requests! Thanks for indulging me. Now.......................let's take a trip!
Playlist
· YouTube links follow certain entries
· songs with * were requests
· all chart information comes from the Billboard Top 100 (for chart dates before/during July 1958) or Billboard Hot 100 (for chart dates during/after Aug 1958) unless otherwise noted
· a glossary of terms is below the playlist
6-7pm
OPENING THEME: Good Old Rock 'n' Roll – Cat Mother & the All-Night Newsboys (1969, #29, produced by Jimi Hendrix)
Having a Party - Sam Cooke (6/62; #17 Pop, #4 R&B - this was actually the B-side of Bring It On Home, but has gone on the become a party classic. Southside Johnny & The Asbury Jukes often play it in their live shows, and do a good job with it - but nobody beats Sam Cooke! That said, notice the absence of Black people in the cover photo.)
I'll Try Something New - Miracles (5/62; #39 Pop, #11 R&B - this was one of Smokey's earliest lush arrangements featuring strings and tympani accompaniment. It would would later be covered by the Supremes & Temptations as a collaboration, and it subtly references Frankie Avalon's 1959 hit "Venus" in the second verse.)

Venus - Frankie Avalon (3/59; #1 Pop for five weeks, #10 R&B - this one epitomized "Oldies radio" to me growing up, and I still get a rush when I hear it. The words are goofy, but its charms are irresistible.)

* Johnny Angel - Shelley Fabares (4/62; #1 for two weeks - every year that my birthday comes up, Barbara-from-Danby calls this in as a birthday dedication. TV actress Shelley wasn't a very confident singer, but the Wrecking Crew provided the instrumentation and the Blossoms were the background singers, and the producers did some deft editing and sweetening, and....voila! A #1 hit record!)

Have You Heard - Duprees (11/63; #18 - these Italian boys from Jersey released this the same week that JFK was assassinated and the world stopped turning. There's no way to really know, but it might have been a bigger hit if the airwaves weren't impacted by a national tragedy. Tonight we hear a rare stereo version from Eric Records.)

Jamaica Farewell - Harry Belafonte (10/56; #14 - these next two are among the first songs that I learned on the guitar, and I continue to play each of them on occasion. Tonight we hear the hard-to-find 45 version. I love this record.)
Where Have All the Flowers Gone - Kingston Trio (1/62; #21 - these guys adapted Pete Seeger's anti-war folk song and added a Pop sensibility to it. Peter, Paul & Mary's version also got lots of play, and Johnny Rivers also charted with it - but this is my go-to. Listen carefully and you'll notice that each guy sings at least one verse as a solo.)

Goin' Out of My Head - Little Anthony & Imperials (11/64; #6 - Little Anthony was from Brooklyn, but spent a bunch of time in my neighborhood and this was one of the first "Oldie" 45s that I bought when I was a young teenager. That's the version we hear here this evening.)
Oh No, Not My Baby - Maxine Brown (10/64; #24 - Carole King & Gerry Goffin wrote this one and Maxine wasn't sure if she wanted to record it, but she took the demo home to practice and woke up the next morning to hear a bunch of jump-roping neighborhood girls wailing away on the chorus. That's when she knew that it would be a hit!)

Maureen - Bachelors (5/65; NR - when I'd become totally smitten by The Beatles and their contemporaries, my mom bought me an album called "England's Greatest Hit-Makers" and I played it incessantly. The opening track was this one, and I was sure that it was a big hit in England. It turns out that the Bachelors were sort of old-fashioned "squares," and they never released this on anything else. What did I know??? I still think that it's their biggest hit!)
Tell Me Why - The Beatles (7/64; NR - I saw them on the Ed Sullivan Show and knew that THAT'S what I wanted to be! We bought all of their albums, and of all the songs that they released, this is the one leapt out at me for tonight's show. It was released in the States on their "Something New" album, and that's the version we hear tonight. It also appeared on the soundtrack to A Hard Day's Night.)
45 Corner: Buchanan & Goodman on Trial - Buchanan & Goodman (8/56; #80 - somehow this record ended up in our house, and it became the Simon brothers' favorite. We knew every line and segue, and played it until we wore out the grooves. This was one in a long line of "break-in" records that used snippets of contemporary hits to tell a story. Tonight I brought in my original scratchy 45!)
(I'm Not) Your Steppin' Stone - Monkees (12/66; #20 - this was one of the first songs that my brother Doug & I worked up on guitars. It had four chords and we knew them all! This was also a case where smart record-buyers could buy two hits for the price of one: this was tucked on the B-side of I'm a Believer!)

Since I Lost My Baby - Temptations (7/65; #17 Pop, #4 R&B - the purple and gold Gordy Records label became a favorite of mine. My Girl was the first Temptations single that I wore out, but this is a close second-favorite, featuring the classic line-up at the top of their game and music and lyrics by the incomparable Smokey Robinson.)

Do You Believe In Magic - Lovin' Spoonful (6/65; #9 - this was their first charting single, and every band I've played in since I moved to Ithaca has had this in their repertoire. It's magical!)

7-8pm
Birthday Calendar
November 20 – Joe Walsh – age 75
– Duane Allman – born 1946

November 21 – David Porter – age 81
– Andrew Love (Memphis Horns) – born 1941
November 22 – Steven Van Zandt – age 72
November 23 – Betty Everett – age 83
November 24 – Donald "Duck" Dunn – born 1941

November 25 – Percy Sledge – born in 1940
– Bob Lind – age 77
MONTH DATE – Tina Turner – age 83
– Jean Terrell (Supremes) – age 78
– John McVie (Fleetwood Mac) – age 77

– Gayle McCormick (Smith) – 1948
Tend My Garden - James Gang (10/70; NR - Joe Walsh was the primary writer, lead vocalist, guitarist, bassist and organist for the band. He'd eventually leave for a solo career, and he'd later join the Eagles, but this is my favorite thing he's ever done, and the album James Gang Rides Again was a serious part of the soundtrack of my "FM radio" years. Thanks to my buddy Lou for turning me onto it.)
\
Hey Jude - Wilson Pickett (12/68; #23 Pop, #13 R&B - young Duane Allman was a session guitarist for Atlantic Records in Muscle Shoals for about a year and a half before seriously turning his attention to the Allman Brothers Band. It was Wilson Pickett who dubbed him "Skyman" during these sessions because of his soaring solos. His nickname at Muscle Shoals had been "Dawg," and it eventually morphed into "Skydog." Duane died just shy of his 25th birthday in a motorcycle accident in Georgia.)
When Something Is Wrong With My Baby - Sam & Dave (2/67; #42 Pop, #2 R&B - David Porter co-wrote this with Isaac Hayes. Sax man Andrew Love helped create the horn parts, and Donald "Duck" Dunn, as part of Booker T & The MGs, played the bass guitar on it. All three of those guys were born in Memphis within three days of each other back in 1941, and they collaborated on many classic records!)
I Can't Hear You - Betty Everett (6/64; #66 - Goffin and King wrote this one and Betty just hit it out of the park! Billboard's reviewer said of it: "Movin' r&b number sung with determination and drive. Betty is surrounded by male chorus and much brass." I think it should've been a much bigger hit.)

Take Time to Know Her - Percy Sledge (3/68; #11 Pop, #6 R&B - when Steven Van Zandt got married in 1982, Little Richard was the officiant and Bruce Springsteen was his best man. He also enticed Percy Sledge to sing this song at the wedding! They both had birthdays this week, so we kill two birds with one song. BTW, they're still married!)
Truly Julie's Blues - Bob Lind (5/66; #65 - folksinger Bob Lind was wisely paired with arranger Jack Nitzsche, who knew how to spice up Bob's simple songs for radio play. This was the follow-up to Elusive Butterfly, but both sides of the single got airplay - and that kept either side from becoming a big hit.)

Honky Tonk Women - Ike & Tina Turner (3/70; dnc - I'd totally intended to play the A-side: Come Together reached #23 on the R&B chart and # 57 on the Pop chart, while the B-side was the Rolling Stones song. Maybe it was a happy accident tonight, because Honky Tonk Women sounded great cranked up in the studio!)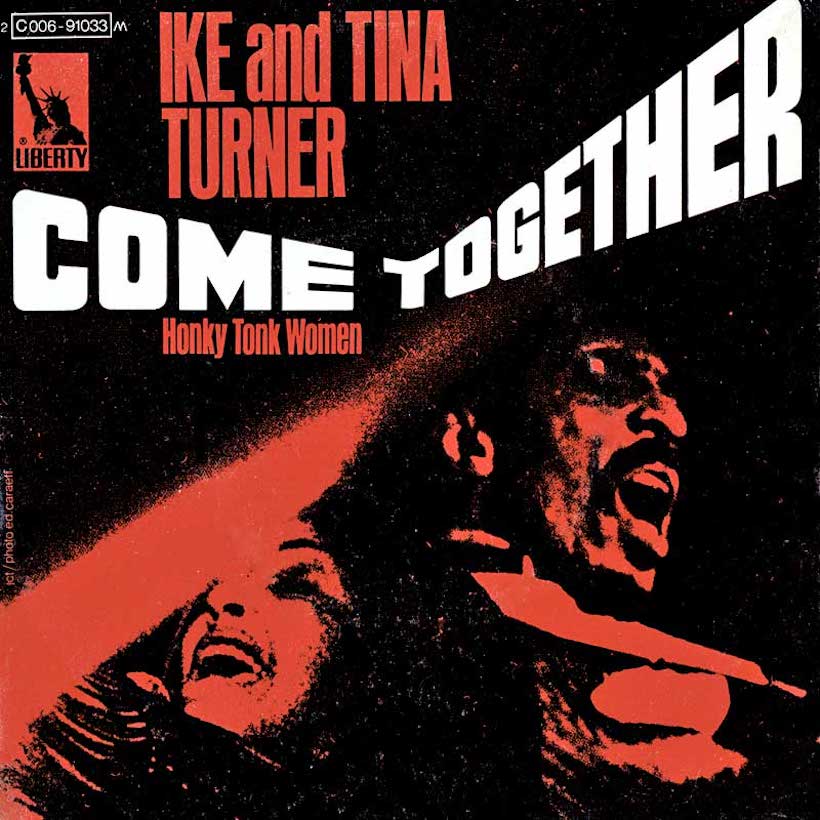 Up the Ladder to the Roof - Supremes (1/70; #10 Pop, #5 R&B - Diana Ross had left for a solo career, and her replacement was Jean Terrell - no relation to Tammi. Diana's career would soon take off, but the trio proved that they still had some good hits in them. However...I'm pretty sure that Jean was lip-synching on the Ed Sullivan Show. Diana never did that!)
45 Corner: Rhiannon - Fleetwood Mac (3/76; #11 - drummer Mick Fleetwood and bassist John McVie gave the band its name, but the hits really started coming when Stevie Nicks and Lindsey Buckingham joined the band. Tonight we hear the hard-to-find 45 version of Stevie's composition, and it's a whole different take from the album version.)

Baby It's You - Smith (11/69; #5 - Gayle McCormick was tall and blonde and had a BIG voice to go with her movie-star looks. This was the band's biggest hit, out-performing both the Shirelles' and Beatles' versions. Tonight we hear the slightly longer LP version than the one that usually gets played on Oldies radio.)
* Young At Heart - Frank Sinatra (1/54; #2 - among the requests that came in were these two: the first, from a guy whose birthday was just last week - and who was born in the year this song was a hit. Let the requests finally play!)

* Happy Happy Birthday, Baby - Tuneweavers (9/57; #5 - this is another one that typifies "Oldies radio" in my book, and it was called in by an old friend of the show who actually has helped repair our studio equipment on occasion. This is very much a Community Radio Station!)

8-9pm
* Honeycomb - Jimmie Rodgers (9/57; #1 Pop and R&B - it turns out that there's another guy tuned in tonight with a November 26th birthday. He asked if I'd play this one, and the only version I could find was on an old compilation LP. Happy birthday to Peter! This is probably what the song sounded like on your old transistor radio!)
Be My Boy - Paris Sisters (4/61; #56 - and now back to Johnny's favorites! Paul Peterson was the first to record this one, and the Lettermen recorded a great version - both as "Be My Girl" - but this was the first release on Phil Spector's Gregmark label, and it just knocked me out when I first heard it.)

* Little Bell - Dixie Cups (12/64; #51 - I'm now in my twentieth year on WVBR, and my wife and six-year old daughter were my two most faithful listeners for the first few years. This was my daughter Kenzey's almost-weekly request, and it's been years since it's been played on Rockin' Remnants. It's time....)

Rosie - Chubby Checker (6/64; #116 - another of my daughters is named Rosie, and there are several great "Rosie" songs: "Everything Is Rosie" from Bye Bye Birdie is one, or I'm Really Rosie from Carole King's Maurice Sendak musical, but this B-side is my favorite. BTW, this version has yet to be released on CD.)
Georgy Girl - Seekers (12/66; #2 for two weeks - I was just 13 when I discovered Pop radio, and a switch flipped: I was suddenly activated! This song had just hit #1 on NYC's WABC Radio, and I ran out to the store and bought it. Do you remember your very first purchase of a brand-new song on the radio? It holds a special place in one's personal story.)
On a Carousel - Hollies (3/67; #11 - this was another one of the songs on the radio when I was 13 and just starting to notice girls and peers and fashion and sports and autonomy - not that I was very good at any of those things, but boy were they becoming apparent! The Hollies would soon leave Imperial for Epic Records, and within two short years Graham Nash would be long gone to join Crosby and Stills.)

A Fork In the Road - Miracles (7/65; dnc - one of the wisest investments a kid could make in the mid-Sixties was to buy a Smokey Robinson 45: each side was guaranteed to be excellent. This appeared on the flipside of Tracks of My Tears, and it's my favorite B-side of them all.)

Hungry - Paul Revere & The Raiders (6/66; #6 - there was a record store on Broadway and 162nd Street called Freddie's. My brother Doug picked this one up for me and brought it home - and it's still in my collection, picture-sleeve and all. One of the rockin'-est records from a very underrated band. Thanks, Dougmo!)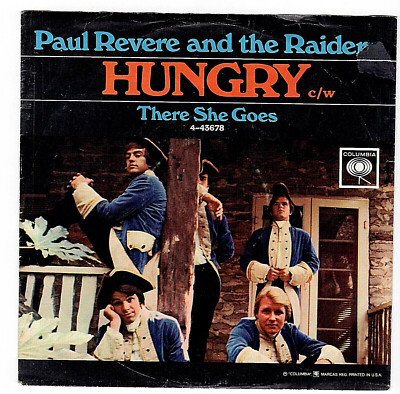 * Birthday - The Beatles (5/68; NR - three calls came in for this one. I finally gave in when caller John asked me to dedicate it to me AND to listener Peter, who also has a birthday today. It's the opening track of side 3 of "The White Album." Turn it up!)

Never My Love - Association (8/67; #2 for two weeks - we got married in the Spring of 1989 and the band Coconut Therapy played this song for our first dance. The longer we're married, the more profound I find the lyrics. That's a serious pledge of love, and so far we're sticking to our vows with no end in sight....)
Stormy - Classics IV (10/68; #5 - I can still remember this one coming through the radio and being fully drawn into the melody and the mood. Years later, John Legend would incorporate elements of it into a big hit record and share writer's credit with the original team. Tonight it's also the perfect song to follow our Weather Center forecast. Sorry about that, but you're looking at a grey and wet week here in Central NY.)

Brown Eyed Woman - Bill Medley (8/68; #43 Pop, #37 R&B - after they separated, each of the Righteous Brothers embarked on solo careers. This Mann/Weil composition was about an interracial romance, and it really resonated with a blue-eyed kid living on the border of Harlem. Years later I found out that Bill Medley was actually in a bumpy romantic relationship with background singer Darlene Love!)
You Got It - AWB (12/74; NR - growing up on the border of Harlem and being hyper-aware of racial identity made this band especially appealing to a self-conscious white kid. This band was a revelation: you could be amazingly soulful and very white all at once! This was the opening track of their self-titled album, and I played it nonstop.)

This Time It's Real - Tower of Power (9/73; #65 Pop, #27 R&B - this was another band full of white guys, along with front man Lenny Williams and keyboard player Chester Thompson - and we had all of their records! BTW, their horn section has played on many other groups' recordings. Check out this video from them in their prime!)
She's a Lady - John Sebastian (1/69; #84 - this was the single that was plucked from his debut solo album, and I remember WNEW-FM DJ Jonathan Schwartz playing it back-to-back-to-back when it first came out. He could get away with it: it was only 1:47 long, and most FM radio tracks ran at least 6 minutes long. Years later I realized that I'd unwittingly borrowed the chord pattern for my very first musical composition.)

I Never Thought I'd Get to Be a Million > Watching & Waiting - Moody Blues (10/69; dnc - this is another thing that I first heard on WNEW. Alison Steele, aka "The Nightbird," played this one night on her overnight show, and it captivated me like nothing ever had before. Apparently, it was released as a single in the UK and they expected it be a #1 hit. It was a complete flop - but not in my world!)
CLOSING THEME: Sleepwalk – Santo & Johnny (1959, #1 for two weeks)
dnc = did not chart
nr = not released as a single at the time
AC = Billboard's chart for "Adult Contemporary" records
BB = Billboard Magazine, which publishes the Hot 100 chart (previously known as the Top 100), along with several other charts
Bubbling Under = songs that were ranked but fell below the top 100
C&W = Billboard's chart for "Country & Western" records
R&B = Billboard's chart for "Rhythm & Blues" records
RRHOF = Rock and Roll Hall of Fame
RS500 = Rolling Stone Magazine's ranked list of the top 500 singles of all-time
Host Next Week (12/2/22): JH with a spotlight on songs with "Girl" in the title.

Thanks for tuning in - and for voting us Ithaca's Best Local Radio Show in this year's Ithaca Times Readers' Poll! You can listen to Rockin' Remnants every Saturday night from 6-9pm on WVBR (93.5 FM in Ithaca, NY) or at wvbr.com/listen.
Thanks, too, to our sponsors Island Health & Fitness and Rasa Spa for their support every week!