Rockin' Remnants





Rockin' Remnants is broadcast from WVBR-FM Ithaca. Check out our

webpage

, like us on

Facebook

, and tune in to 93.5 or

stream

the show every Saturday night from 6-9pm! (Or download the WVBR+

app

now available for iOS and Android!)
Thanks to our sponsors Island Health & Fitness and Rasa Spa for their support every week!
Date: 3/23/19
Host: John Simon & Guest
Feature: On the Road Again
Okay - time to fire up the old van and do another Rockin' Remnants roadtrip with my buddy George. Last time we left our hearts in San Fran (while wearing flowers in our hair), got rained on in Georgia and had the lights go out in Massachusetts. Let's see where the van takes us tonight.... 6-9 p.m. on 93.5 FM or streaming at wvbr.com. Stick out your thumb - we'll pick you up!
Trivia:
Some people say that there are no songs about Oklahoma. We've found three of them without cheating. How many can you think of?
[scroll to bottom for our answer]
Playlist
·
yellow
song titles are YouTube links
·
songs with * were requests
·
all chart information comes from the Billboard Top 100 (for chart dates before/during July 1958) or Billboard Hot 100 (for chart dates during/after Aug 1958) unless otherwise noted
·
a glossary of terms is below the playlist
6-7pm
OPENING THEME: Good Old Rock 'n' Roll – Cat Mother & the All-Night Newsboys (1969, #29, produced by Jimi Hendrix)
(Here They Come From) All Over the World - Jan & Dean (3/65; #56 - picking up from last week, here's one propelled by the rocking drumming of the late Hal Blaine. This was the theme for a concert film called the

T.A.M.I. Show,

and the song celebrates the cities and towns that are home to many of the stars appearing on the show.)
Dancing in the Street -

Martha & The Vandellas (8/62; #2 - a Motown musical shout-out to some of the most swingin' cities in the US of A!)
High School USA (National Version) - Tommy Facenda (10/59; #28 - He recorded 29 different versions of this song, each focusing on the names of high schools in big cities. In this version he just mentions the different cities.)

California Girls - Beach Boys (7/65; #3 - the majestic intro to this tune was one of Brian Wilson's proudest creations, executed in the studio by Hal Blaine and the Wrecking Crew.)

King of the Road - Roger Miller (1/65; #34 Pop, #1 C&W for five weeks - This Grammy-winner declared "third boxcar midnight train, destination: Bangor, Maine!")

Dirty Water - Standells (4/66; #11 - contrary to what the lyrics imply, this Garage Band was actually based in L.A., not Boston!)

Down in Texas - Don Varner (1967; dnc - a hard-rockin' southern Soul stomper that may have charted regionally, but never on the national charts. Duane & Greg Allman must've had this record, because they covered it in their early days.)

* El Paso - Marty Robbins (1/60; #1 Pop for four weeks, #1 C&W for seven weeks! - we had two requests for this big-seller, and it sounded really good cranked up in the studio.)

* Houston - Dean Martin (8/65; #21 - we'll stay in Texas with this request from former WVBR DJ Tom Preston.)

Brown Arms In Houston - Orpheus (5/69; #91 - In fact, let's stay in Houston! This was a follow-up to the low-charting "Can't Find the Time," and has basically been lost to time until tonight.)

* Willin' - Little Feat (1971; dnc - this oft-recorded gem was penned by the late Lowell George. This is the rarely-heard studio version from the band's first LP,and was suggested by two different listeners.)

San Franciscan Nights - Eric Burdon & The Animals (8/67; #9 - Eric Burdon was completely enthralled with the San Francisco scene by the time they released this record during "The Summer of Love." We'll get out of the van and jump on Trans Love Airways for this one.)
(Sittin' On) The Dock of the Bay - Otis Redding (3/68; #1 for four weeks - like Eric Burdon, Otis became enthralled with the Bay Area after his appearance at the Monterey Pop Festival in June of 1967. He wrote this song with help from his friend Steve Cropper. They recorded it and then Otis' plane went down. It became his first - and biggest - posthumous hit.)

Ventura Highway - America (10/72; #8 - Hal Blaine on drums, Joe Osborn on bass....and we stay in California just a little longer.)

Emperor of Wyoming - Neil Young (background talk break music)
7-8pm
Birthday Calendar
March 17 – Nat "King" Cole – born in 1919
– John Sebastian (Lovin' Spoonful) – age 75
You get a truncated Birthday Calendar this evening, due to our theme.
(Get Your Kicks On) Route 66 - Nat "King" Cole (6/46; #11 Pop, #3 R&B - we usually don't dip back into the pre-Fifties, but this is the perfect tune for our travelogue, and this is the definitive version of it. Also, Mr. Cole would be turning 100 this week.)
Nashville Cats - Lovin' Spoonful (1/67; #8 - this paean to the prowess of the guitar-pickers of Nashville was unlike the band's previous records, but it did maintain that light-hearted bounce that said "Lovin' Spoonful.")
Kay - John Wesley Ryles I (12/68; #83 - this cool tune is a first-person account of a cab driver who followed his singing girlfriend to "Music City" - a.k.a. Nashville - and hopes that she'll make it big.)
* I've Been Everywhere - Hank Snow (9/62; #68 Pop, #1 C&W - two people suggested this rapid-fire flurry of towns and cities that Johnny Cash would also record in the Nineties, but this is the original C&W hit version.)
Hip City, Pt. II - Junior Walker & All-Stars (8/68; #31 Pop, #7 R&B - Part I was a solid funky dance record, but Part II is when they start calling out the names of some of the hippest cities on the R&B circuit, culminating with "De-troit town, the home of the Motown sound!")
Memphis - Johnny Rivers (5/64; #2 - the first charting hit for the New Orleans native was this great cover of Chuck Berry's classic tune.)
Jackson - Nancy Sinatra & Lee Hazelwood (7/67; #14 - Johnny Cash & June Carter had the original hit. Nancy & Lee updated it and took it for a successful ride of their own.)
Mississippi Queen - Mountain (4/70; #21 - that classic cowbell intro can only mean one thing: here comes Leslie West!)
Mississippi - John Phillips (5/70; #32 - Papa John's only charting single under his own name featured solos by James Burton on guitar, Larry Knechtel on piano, Joe Osborn on bass and additional accompaniment by Hal Blaine and The Blossoms, featuring Darlene Love!)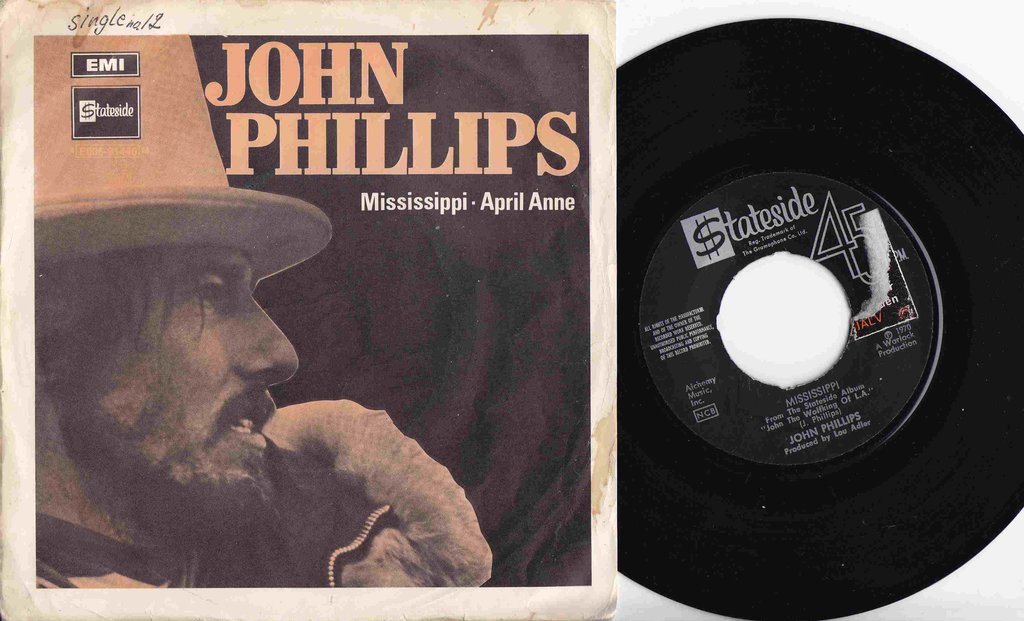 * Kentucky Rain - Elvis Presley (2/70; #16 - we tried to not repeat any records from our previous show, but this was too good to deny.)
Rocky Mountain High - John Denver (11/72; #9 - one of John Denver's early singles, singing the praises of Colorado. When he got really successful, he recruited James Burton and Hal Blaine to join his touring band for a while!)
Someday Soon - Judy Collins (2/69; #55 - speaking of session players, how about this? James Burton on electric guitar, Buddy Emmons on pedal steel, producer Stephen Stills on bass and Jim Gordon on drums!)
* Walkin' to New Orleans - Fats Domino (6/60; #6 - this is another repeat from our last show. We just couldn't say no!)
8-9pm
Zip Code - Five Americans (8/67; #36 - This was a blatant attempt to repeat the success of their Top 5 "Western Union." The zip code in question, "1-double-0 36," is in northern Manhattan - and suddenly we're in NYC!)
Eyes of a New York Woman - BJ Thomas (6/68; #28 - similar in feel to "Hooked On a Feeling," but it wouldn't crack the Top 5 as its predecessor had. This is the mono 45 version.)
* Theme From New York, New York - Frank Sinatra (5/80; #32 - how many "signature songs" can one man have? Well, this is definitely one of Sinatra's - it's played at the end of every Yankee home game, and goes out at the request of our friend Glen.)
* Spanish Harlem - Laura Nyro (1971; dnc - from the stunning cover LP "Gonna Take a Miracle," produced by Gamble & Huff in Philadelphia, this one wasn't released as a single. Going out to Lynne in Ithaca!)
Ariel - Dean Friedman (4/77; #26 - "Way on the other side of the Hudson, deep in the bosom of suburbia...." This one takes us to Northern New Jersey with a wailing sax solo and the sound of fireworks when they finally 'go all the way.')
California Nights - Lesley Gore (2/67; #16 - speaking of Northern New Jersey, here's one of the greatest of the Jersey Girls with her final Top 40 hit on the Mercury label. Quincy Jones was her producer and arranger - and suddenly we're in southern California!)
It Never Rains in Southern California - Albert Hammond (10/72; #5 - a hard-luck tale about the difficulty of breaking into the movie business. Speaking as a guy who recently spent two weeks in No. Hollywood....it does, too, rain out there.)
Midnight Train to Georgia - Gladys Knight & Pips (10/73; #1 for two weeks - This one is a fitting follow-up to the previous record when it becomes clear the "LA proved too much for the man." I found myself in the studio singing along and doing the Pips' dance moves. Woo-Hoo!)
* Take It Easy - Eagles (6/72; #12 - This request was the first one called in during our last show, but the disc was mysteriously missing from the CD Library. Tonight we finally get to hear about that famous "corner in Winslow Arizona!")
* Rock'n Me - Steve Miller Band (11/76; #1 - suggested by my buddy JR, this one mentions a bunch of towns in and around the U-S-of-A - and it has a beat you can dance to!)
* Twenty-Four Hours From Tulsa - Gene Pitney (10/63; #17 - our friend Betsy called this one in. This is the third song we've played in this series that takes place in Oklahoma, but it's a sad tale....)
45 Corner: Ballad of Thunder Road - Robert Mitchum (9/58; #62 AND 2/62, #68 - Mitchum co-wrote the song, starred in the movie and performed on the record. It charted twice and spent a total of 21 weeks on the chart - but it wasn't a hit. Watch a two-minute synopsis of the movie

right here!

)
Banks of The Ohio - Olivia Newton-John (10/71; #94 -This was the very first charting single for the Australian-raised chanteuse. She had crossover appeal, but her biggest success was as a Country singer. The Oak Ridge Boys provide backing vocals here.)
Arizona - Mark Lindsay (12/69; #10 - And we end our show with this, the first of Mark Lindsay's solo records. He continued to record with The Raiders, and he continues to work the Oldies circuit to this day. Last stop tonight? Arizona!)
CLOSING THEME: Sleepwalk – Santo & Johnny (1959, #1 for two weeks)
Glossary of Terms:
nr
= not released as a single at the time
AC
= Billboard's chart for "Adult Contemporary" records
BB
= Billboard Magazine, which publishes the Hot 100 chart (previously known as the Top 100), along with several other charts
Bubbling Under
= songs that were ranked but fell below the top 100
C&W
= Billboard's chart for "Country & Western" records
R&B
= Billboard's chart for "Rhythm & Blues" records
RRHOF
= Rock and Roll Hall of Fame
RS500
= Rolling Stone Magazine's ranked list of the top 500 singles of all-time
Trivia Answer:
We came up with three songs that prominently mention Oklahoma: Merle Haggard's "Okie From Muskogee," Three Dog Night's "I've Never Been to Spain" and Gene Pitney's "Twenty-Four Hours From Tulsa." Can you think of any more?
Host Next Week (3/30/19): Kim Vaughan with a spotlight on March 1962.
Thanks for tuning in! You can listen to Rockin' Remnants every Saturday night from 6-9pm on WVBR (93.5 FM in Ithaca, NY) or at

wvbr.com/listen

.
Thanks again to our sponsors Island Health & Fitness and Rasa Spa for their support every week!