Rockin' Remnants





Rockin' Remnants is broadcast from WVBR-FM Ithaca. Check out our

webpage

, like us on

Facebook

, and tune in to 93.5 or

stream

the show every Saturday night from 6-9pm! (Or download the WVBR+

app

now available for iOS and Android!)
Thanks to our sponsors Island Health & Fitness and Rasa Spa for their support every week!
Date: 7/20/19
Host: John Simon
Feature: July 20, 1968 + Apollo 11
So...this happened 50 years ago tonight. We'll pay fitting tribute on WVBR's Rockin' Remnants, plus we'll play a bunch of great tunes from back in the Golden Age of AM Radio. Giveaways to The Hangar Theatre! Trivia! Your requests! Oh....and air conditioning for the DJ! 6-9 p.m., streaming worldwide.

🌏
Rock 'n' Roll Trivia
A song appeared on this week's Bubbling Under chart, but it wouldn't crack the Hot 100 until twenty years later! Can you name that tune from July 1968 that charted in February 1988???
(scroll down to find the answer below the playlist – and to find a glossary of terms)
Playlist
·
yellow
song titles are YouTube links
·
songs with * were requests
·
all chart information comes from the Billboard Top 100 (for chart dates before/during July 1958) or Billboard Hot 100 (for chart dates during/after Aug 1958) unless otherwise noted
·
a glossary of terms is below the playlist
6-7pm
OPENING THEME: Good Old Rock 'n' Roll – Cat Mother & the All-Night Newsboys (1969, #29, produced by Jimi Hendrix)
Armstrong, Aldrin & Collins - The Byrds (11/69 - this was the final track on the latest Byrds album and it incorporated actual sound effects of the moon landing that captivated the entire world. It's only 1:41 long, but it's quite inspiring!)
Armstrong - John Stewart (9/69; #74 - John Stewart was compelled to write this, rush to the recording studio, and release it as a single. It wasn't quite a smash, but it's pretty stirring to this day.)
Fly Me to the Moon - Bobby Womack (7/68; #52 Pop, #16 R&B - a listener called in later in the show asking to hear anything about the moon landing, and he suggested Frank Sinatra's version of this song as an example. I explained that he must've tuned in late, but this ws one of the first ones I thought of too.)
Everyone's Gone to the Moon - Jonathan King (9/65; #17 - I have to confess that I'm always looking for an excuse to play this one. It's bizarre and beautiful. Tonight it fits seamlessly.)
This Guy's In Love With You - Herb Alpert
(this one is still in the Top 20 this week after having spent all of June 1968 in the #1 position. It's the first time most of us ever heard trumpeter Herb Alpert's voice!)
* Give Me One More Chance - Wilmer & The Dukes
(at #100 this week, headed to #80 - Wilmer & the band hailed from the Geneva/Rochester area and played all around our region. This one was heavily influenced by Otis Redding and it goes out to our buddy George in East Genoa.)
Soul Limbo - Booker T & The M.G.s
(at #92 this week, headed to a peak of #17 - in addition to backing up everyone from Sam & Dave to Otis Redding, this quartet cut some great instrumental 45s. This one starts with a cowbell that just won't quit!)
Be Young, Be Foolish, Be Happy - The Tams
(peaking at #61 this week - these guys are the premiere purveyors of the "Carolina Beach sound," and took their name from the floppy hats they used to wear on stage.)
The Look of Love - Sergio Mendes & Brasil '66
(at #15 this week, having peaked at #4 - this is one of several versions of the theme song from 1967's James Bond film, and it was the best-seller of them all. Tasty Brazilian rhythms, sultry vocals, haunting melody.)
*

The Weight - The Band
(bubbling under - this was poised to break into the charts in late August 1968 and would eventually reach #63. It's ranked at #41 in the RS500 and is one of THE classic singalong campfire songs. Watch the Band sing it at Woodstock one year later!)
* Light My Fire - The Doors (7/67; #1 for four weeks - going out by request to our friend Judy, who remembers this blasting on her transistor radio on a hot night like this 52 years ago!)
45 Corner: The Wonderful World of Summer - Sandy Posey (7/68; dnc - this sweet little B-side could be found tucked away on the back of her non-charting Ways of The World. She was too Pop for the C&W charts and too C&W for the Pop charts, although she did have a handful of singles on each.)
On a Summer Night - Sugar Canyon
(8/68; dnc
-
this one was so
pretty that they released it twice, but it didn't really make a difference. Too bad!)
Baby Blue - The Echoes (3/61; #12 - one of a slew of Italian-American Doo Wop groups from New York City, but this one broke through for a short minute. They couldn't spell, but they certainly could harmonize!)
7-8pm
Birthday Calendar
July 15 – Linda Ronstadt – age 73
July 16 – Tony Jackson (Searchers) – born in 1940
July 18 – Dion DiMucci – age 80
– Brian Auger – age 80
– Martha Reeves – age 78
July 19 – Bernie Leadon (Eagles) – age 72
July 20 – Dennis Yost (Classics IV) – born in 1943
– John Lodge (Moody Blues) – age 74
– Carlos Santana – age 72
Where Or When - Dion & The Belmonts (12/59; #3 - these Italian-American Doo Wop singers hailed from The Bronx and had an unfair advantage: the charismatic and golden-throated Dion, second from the right. They almost took this Rodgers-Hart classic to #1.)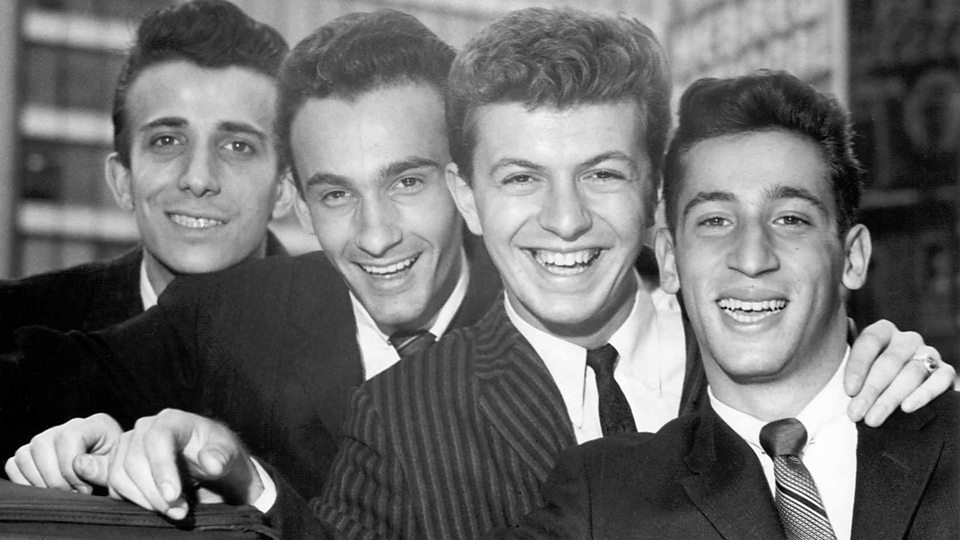 Runaway Girl - Dion (9/61; dnc - Dion eventually split from the group and released a string of successful singles. This one can be found on the B-side of his #1 smash Runaround Sue.)
Dancing in the Street - Martha & Vandellas (8/64; #2 for two weeks - Martha Reeves was born in Alabama,
raised in Detroit and sang on lots of great records, but this one just screams "summertime" to me.)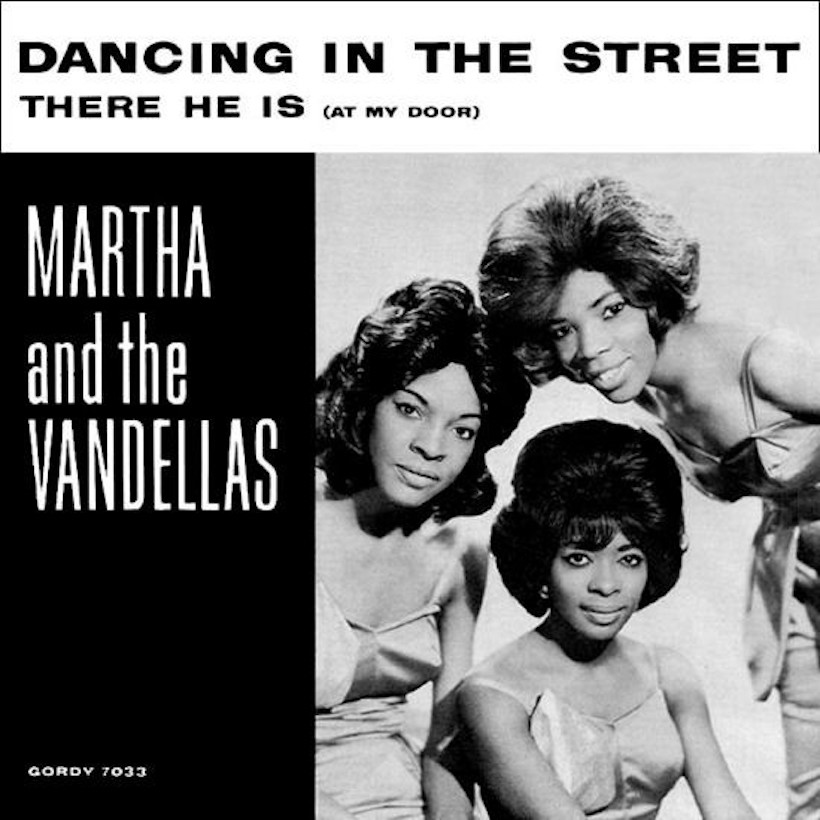 Different Drum - Stone Poneys (11/67; #13 - little did we know when this record first appeared that singer Linda Ronstadt would go on to become one of the premiere vocalists of the era. By the way, future Eagle Bernie Leadon played guitar on this record!)
Tequila Sunrise - Eagles (7/73; #64 - after leaving the Stone Poneys for the Flying Burrito Brothers, Bernie joined up with his friends Don Henley and Glenn Frey to form the Eagles. He played the haunting electric guitar on this one, as well as the acoustic guitar solos. When the band started turning to harder Rock, Bernie moved on.)
This Wheel's on Fire - Julie Driscoll, Brian Auger & The Trinity
(peaking at #106 this week - words and music by Bob Dylan, keyboard wizardry by Brian Auger, who turned 80 this week.)
Someday We're Gonna Love Again - Searchers (8/64; #34 - Tony Jackson played bass and sang lead on most of their early hits. He eventually embarked on a solo career. It didn't work out so well for him, but the band kept making hit records.)
Ride My See Saw - Moody Blues
(10/68; #61 - written and sung by bass player John Lodge)
Traces - Classics IV feat. Dennis Yost (2/69; #2 - this one goes out to the IHS Class of 1969, whose fiftieth reunion takes place next weekend. Faded photographs covered now with lines and creases....)
Jingo - Santana (10/69; #56 - their first charting single was panned by Rolling Stone's music critic, but it's gone on to be considered a classic.)
* Leader of the Laundromat - Detergents (12/64; #19 - this parody of the Shangri-Las' chart-topping Leader of the Pack has a backstory: a member of the show's extended family passed away three weeks ago, and he'd requested this one a couple of times over the years. Apparently, he'd never heard the Shangri-Las' until after he'd heard this version. He actually thought that the Girl Group version was a parody of the Detergents' version, and that tickled him for many years. Long live David Craig!)
*

Have I The Right - Honeycombs

(9/64; #5 * #1 UK for three weeks - one thing that set this British Invasion group apart is that they had a female drummer: Honey Lantree, whose brother played bass in the band. Honey passed away in late December at the age of 75.)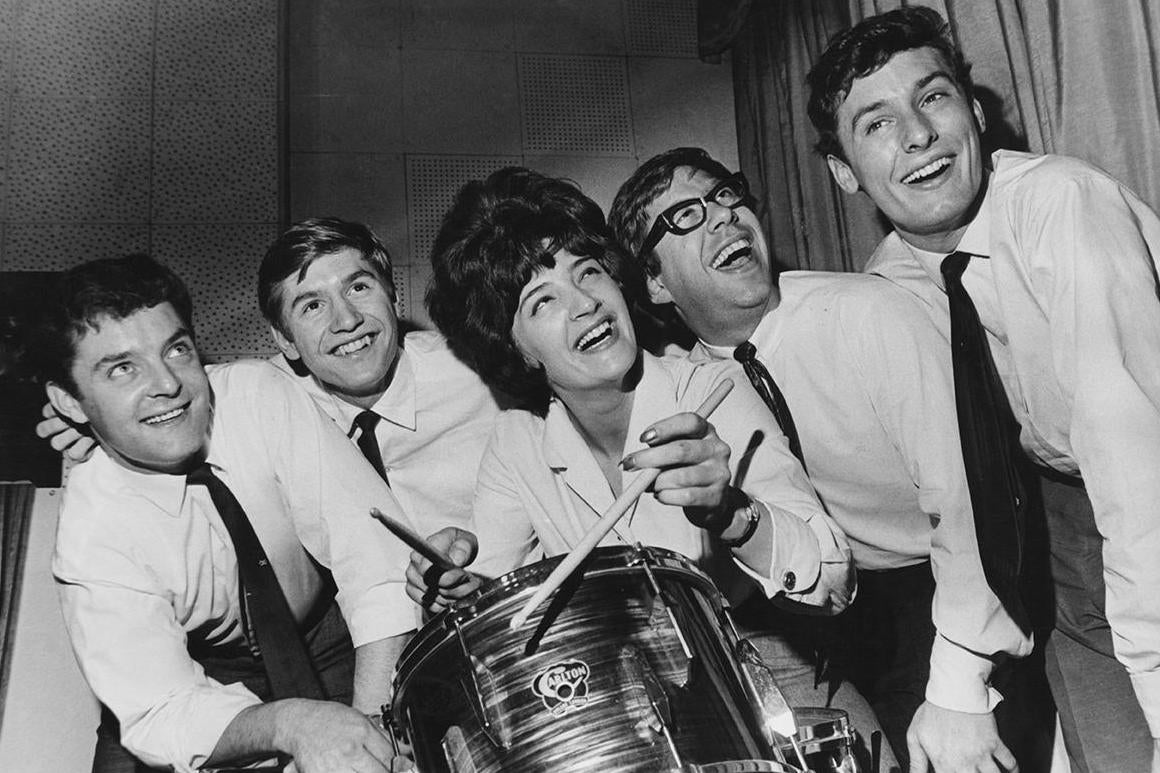 Peanuts - Rick & The Keens (7/61; #60 - Little Joe & The Thrillers had the original, but these one-hit wonders from Texas had....Rick! He killed this one, but he left the music industry shortly after this recording session.)
All My Lovin' - The Beatles (3/64; #45 - surprising as it may be, this one never even cracked the Top Forty! Part of the reason is that it was on the Canadian Capitol label, and their distribution paled in comparison to the US Capitol label. There were also just so many Beatles records on the chart in April that they couldn't ALL be big hits....)
Devoted to You - Everly Brothers (8/58; #10 - surprising as this may be....this was selected as the B-side of the single. The A-side was Bird Dog, which was a smash, but this one stands on its own as a bon a fide classic.)
8-9pm
I Believe in Music - Gallery (8/72; #22 - this 45 was donated to the Remnants library by our old friend Mary Anne. Listener David wrote "
Wow, i don't think i've heard this since about 1972! Good donation!" Agreed!)
Come & Get Your Love - Redbone (1/74; #5 - these guys were authentic Native American rockers and this was their biggest hit of them all. It was most recently heard by millions of viewers in the film Avengers: End Game, and is back in the public consciousness.)
Walking In Rhythm - Blackbyrds (2/75; #6 - these young guys were proteges of Donald Byrd, and they did him proud.)
You Send Me - Aretha Franklin
(at #67 this week, down from a peak of #56 - not too shabby for a B-side, although the pedigree is pretty good: Sam Cooke wrote it and had the big hit with it.)
You Keep Me Hanging On - Vanilla Fudge
(at #56 this week, headed to #6 - this had originally been released a year earlier and gone nowhere. Coincidentally, JR played the 8+ minute LP version this afternoon on the Dealer's Choice show. Freaky, man!) What a Wonderful World - Louis Armstrong
(at #126 this week, headed to a peak of #116 - the owner of ABC Records famously refused to promote this single because he wanted something more along the lines of Hello Dolly. As a result, the record went nowhere - until it was prominently featured in a Robin Williams film and hit #32 in 1988!)
Heat Wave - Linda Ronstadt (9/75; #5 - Martha & The Vandellas had the first big hit ten years earlier, and Linda's version closely followed the original. They both had birthdays this week, we've been in the middle of a nasty heatwave and it just made sense.)
Tighten Up (Pt. 1) - Archie Bell & The Drells
(5/68; #1 for two weeks - these guys came out of nowhere with this record and raced to the top of the charts. They'd follow it with several more dance records before Archie Bell was drafted into the service. By the time he got back, trends had shifted.)
Too Hot - Kool & The Gang (1/80; #5 Pop, #3 R&B - this one is self-explanatory.)
On Broadway - Drifters (5/63; #9 - Rudy Lewis was the lead singer. Leiber-Stoller and Mann-Weil were the composers. Phil Spector played the guitar break. A true classic.)
So Much In Love - Tymes (8/63; #1 - this one was two weeks away from hitting #1 on this date in 1963. They were staples of the Cameo-Parkway Records family and this recording is the epitome of cool.)
Snoopy for President - Royal Guardsmen
(at #85 this week "with a bullet" - and next week it was completely gone. Upon further investigation, the label pulled the record because it was too soon after RFK's assassination. This would've given them four big "Snoopy-themed" hits if it had stayed the course. A lost piece of history.)
* Walk On By - Dionne Warwick (4/64; #6 - a perfect pairing of Dionne's plaintive voice, Burt Bacharach's haunting melody and Hal David's poetic lyrics. Going out by request from one of my longest listeners!)
Sunny Skies - James Taylor (2/71; dnc - this gem was tucked onto the B-side of "Country Road" and both were from JT's Warner Brothers debut album, Sweet Baby James. The heat wave will end on Monday. Hang in there, friends!)
CLOSING THEME: Sleepwalk – Santo & Johnny (1959, #1 for two weeks)
Trivia Answer
Louis Armstrong got stuck at #116 in August of 1968. Twenty years later "What a Wonderful World" was included in the film Good Morning Viet Nam and it broke into the Hot 100 in February of 1988, eventually reaching #32 on the Pop chart. It also spent four weeks at #1 in the UK!
Congratulations to Linda from Ithaca, for correctly answering the question and winning a VIP pass to the Hangar Theatre's Main Stage!
Glossary of Terms:
nr
= not released as a single at the time
AC
= Billboard's chart for "Adult Contemporary" records
BB
= Billboard Magazine, which publishes the Hot 100 chart (previously known as the Top 100), along with several other charts
Bubbling Under
= songs that were ranked but fell below the top 100
C&W
= Billboard's chart for "Country & Western" records
R&B
= Billboard's chart for "Rhythm & Blues" records
RRHOF
= Rock and Roll Hall of Fame
RS500
= Rolling Stone Magazine's ranked list of the top 500 singles of all-time
Host Next Week (7/27/19): Jan Hunsinger with a spotlight on Novelty Records!
Thanks for tuning in! You can listen to Rockin' Remnants every Saturday night from 6-9pm on WVBR (93.5 FM in Ithaca, NY) or at

wvbr.com/listen

.
Thanks again to our sponsors Island Health & Fitness and Rasa Spa for their support every week!