Rockin' Remnants





Rockin' Remnants is broadcast from WVBR-FM Ithaca. Check out our
webpage
, like us on
Facebook
, and tune in to 93.5 or
stream
the show every Saturday night from 6-9pm! (Or download the WVBR+
app
now available for iOS and Android!)






Date: 6/18/16
Host: John Simon
Feature: Random Oldies Show
Back in the Saturday night saddle. Rockin' Remnants from now 'til 9 p.m. Cheap date night - but you don't always get what you pay for....
Birthday Calendar
June 12 – Len Barry (Dovells) – age 74
– Reg Presley (Troggs) – born in 1941
June 13 – Marv Tarplin (Miracles) – born in 1941
June 14 – Rod Argent (Zombies) – age 71
June 15 – Ian Matthews – age 70
– Harry Nilsson –born in 1941
June 18 – Paul McCartney – age 74
Playlist
[songs in bold are from the spotlight date of DATE;

yellow

song titles are YouTube links; songs with * were requests; all chart information comes from the Billboard Top 100 (for chart dates before/during July 1958) or Billboard Hot 100 (for chart dates during/after Aug 1958) unless otherwise noted]
6-7pm
OPENING THEME:

Good Ol' Ro

ck 'n' Roll

– Cat Mother & the All-Night Newsboys (1969, #29, produced by Jimi Hendrix)
Groovin' - Young Rascals (6/67; #1 - the perfect song for a perfect day like today. This was a radical departure from their driving sound, and the record company was reluctant to release it. Good thing they did....)
Dancin

g

In the Street - Martha & Vandellas (8/64; #2 for two weeks - another one

that

reflects

the weather and the day's activities: the Southside Community Center hosts its annual Juneteenth Festival this afternoon and young people are - literally - dancing in the street. Rolling Stone ranks this at #40

i

n the RS500 list.)
Girl (Why You Wanna Make Me Blue) - Temptations (9/64; #26 - Smokey Robinson was the main producer and Eddie Kendrick was the main voice on the band's early hits. Their next single would be My Girl, and David Ruffin would soon become their main man.)
Opus 17 (Don't Worry About Me) - 4 Seasons (6/66; #13 - one of a great string of hits from the Jersey Boys who took their name from a bowling alley marquee.)
Hungry - Paul Revere & The Raiders

Featuring Mark Lindsay

(6/65 - follow-up to their smash Kicks, this is the mono 45 version of one of the hardest-rocking Pop singles of the era.)
MacArthur Park - Richard Harris (5/68 - every once in a while you need a 7-minute record so you can run to the request library. This one featured the core members of "the Wrecking Crew" - Larry Knechtel on piano, Joe Osborn on bass, Hal Blaine on drums and Tommy Tedesco on guitar - along with composer Jim Webb on a keyboard.)
* The First Time We Fall In Love - Kinks (1975 - from the album Schoolboys In Disgrace, this retro-sounding request was new to me. Pretty cool.)
*

(I Washed My Hands In)

Muddy Water - Johnny Rivers (6/66; #19 - a request from a guy who'd been working in the garden, and who has a birthday next weekend. How could I say no???)
Runaway Girl - Dion (9/61; dnc - buried on the b-side of the runaway smash Runaround Sue was this little gem with a nice little piano lick and an infectious melody

. A Rockin' Remnants exclusive!

)
Spanish Harlem - Ben E. King (1/61; #10 - his first big solo hit after leaving The Drifters. Aretha had a hit with it and Laura Nyro recorded a haunting version, but this is the original mono release and it's a classic.)
Oh My Angel - Bertha Tillman (5/62; #61 - the only charter for this one-hit wonder from southern California. It's not well-known, but it should be!)
* Peaceful Easy Feeling - Eagles (12/72; #22 - we had a bunch of people listening from their decks tonight. Woody from Danby called this one in, saying "It's an Eagles kind of evening, don'tcha think?")
*

Judy's Turn To Cry

- Lesley Gore (7/63; #5 - this request was inspired by the "mondegreen"* lyric from Groovin', where "you & me endlessly" sounds to some like "you & me 'n' Lesley." We'll have two more mondegreens before the night is through. Stay tuned....)
Along Comes Mary - Association (6/66; #7 - their national chart debut on the Valiant Records label was banned in some markets because of its alleged drug references. Listener Betsy heard "when we met I was sure out to lunch" as "when we made out for sure after lunch." Mondegreen #2.)
Red Rubber Ball - Cyrkle (6/66; #2 - co-written by Paul Simon and The Seekers' Bruce Woodley - and produced by none other than John Simon! Of course, that would be the other John Simon.)
7-8pm
1-2-3 - Len Barry (9/65; #2 - his first record as a solo artist raced to the top of the charts. It would be pretty much downhill from there, but this was a great record.)
You Can't Sit Down - Dovells (4/63; #3 - a sizzling single from the Philadelphia teens. This same song had been an instrumental hit for Phil Upchurch a few years earlier.)
Day Tripper - Beatles (1/66; #5 - who else but the Beatles would bury this on the b-side of a record - and still have it reach #5??? Critic Dave Marsh says "Paul McCartney has never cut a deeper bass groove." DJ JS says "Paul McCartney has never sang a tougher vocal, either.")
We Can Work It Out - Beatles (1/66; #1 - a classic example of the Lennon-McCartney dynamic: Paul wrote the gently melodic verses, while John wrote the darker bridge "Life is very short and there's no ti-i-i-ime for fussing and fighting my friend!")
With A Girl Like You - Troggs (8/66; #29 - released here in the States as the b-side of Wild Thing, which reached #1 in June of 1966.)
My Girl Has Gone - Miracles (9/65; #14 - this is the second most memorable guitar figure played by founding member Marv Tarplin. The first was on their previous single Tracks Of My Tears.)
Mare Take Me Home - Matthews Southern Comfort (7/71; #96 - banjo, acoustic guitar and bass and Ian Matthews' dulcet singing all made for a beautiful LP. This is one of three charting singles taken from it, the biggest of which we'll play shortly.)
She's Not There - Zombies (10/64; #2 - their first single was this monster, featuring the sizzling electric piano of Rod Argent and the haunting voice of Colin Blunstone. An amazing debut!)
Singalong Junk - Paul McCartney (1970 - the first solo Beatle p

roject was Paul's McCartney album, on which he played all of the instruments in his home studio. This is the instrumental version of the song called "Junk," and it's the perfe

ct bed for me to talk over as I make some community announcements.)
Saint Paul - Terry Knight (6/69; #114 - Terry Knight flew to England to audition for the Beatles' new Apple Records label. After an unsatisfying and frustrating interaction with Paul McCartney, TK composed this bitter song on the

flight

home. He also borrowed the coda of Paul's Hey

J

ude, and ended up having to split the royalties with him. Bummer!)
The Grass (Will Sing for You) - Lonnie Youngblood (8/66; dnc - a rich Soul ballad on the Cameo-Parkway-affiliated label that failed to chart just as the label was collapsing.)
Society's Child - Janis Ian (5/67; #14 - Janis was attending NYC's High School of Musi

c & Art

when she was signed to Verve Records and recorded this bit of political commentary. It floundered until

Leonard Bernstein featured it on a TV

special about young classically-influenced musicians, and then it rocketed up the charts.)
Woodstock - Matthews Southern Comfort (3/71; #23 - Joni Mitchell recorded the original. CSNY had a hit with it, and then Ian Matthews did. This is the edited 45 version, turning a 5+ minute album track into a 3 1/2 minute single.)
You'll Never Walk Alone - Gerry & Pacemakers (6/65; #48 - this was the b-side of a big hit from the previous summer: How Do You Do It. This has become an unofficial anthem in honor of the Orlando shooting victims last weekend.)
8-9pm
You'll Never Walk Alone

-

The Blue Belles

(1/64; #34 - this was before Patti LaBelle claimed top billing. She was still a teenager and she blew the doors off of this one.)
I Met Him On a Sunday > The Bells - Laura Nyro & LaBelle (9/71- recorded in Philadelphia by Gamble and Huff and chosen to open the Gonna Take a Miracle album, this was a perfect blending of Laura Nyro's talents and Patti & Company's voices.)
Ball Of Fire - Tommy James & Shondells (10/69; #19 - the third consecutive peace and love anthem by Tommy and the band, as we ease ourselves into the Seventies hour of the show.)
Get Together - Youngbloods (6/69; #9 - this had been a low-charting hit a year-and-a-half earlier, but it re-surfaced as a radio PSA for the National Conference of Christians and Jews and became an anthem for a generation.)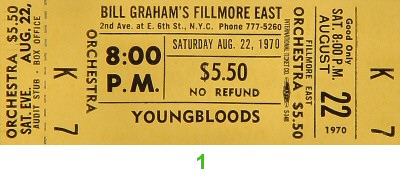 Someday Soon - Judy Collins (2/69; #55 - written by Ian Tyson and produced by Stephen Stills, who also played bass on this recording by his then-sweetheart "sweet Judy blue-eyes.")
Clean-Up Woman - Betty Wright (11/71; #6 Pop, #2 R&B - three guitar players propelled this song up the charts, where it spent EIGHT WEEKS at #2 on

Billboard's

R&B

listings

!)
Mull of Kintyre - Paul McCartney (11/77; dnc - this record spent a whopping nine weeks at #1 in the UK, but was relegated to the b-side of Girl's School here in the States, which only reached #33.)
* Leavin

'

On Your Mind - Patsy Cline (1/63; #83 Pop, #8 C&W - this was the final single released before her tragic airplane

accident

, and comes as a request from one of my favorite listeners out there - a middle-schooler who knows his stuff!)
* Here Comes My Baby - Tremeloes (

4

/67; #13 - a relatively unknown songwriter named Cat Stevens penned this one. The Tremeloes' gimmick was to make all of their songs sound like they were recorded live at a wild party. This was a feel-good party record right before the Summer Of Love.)
* Apricot Brandy - Rhinoceros (2/69; #48 - clocking in at 1:49, this is one of the shortest kick-ass instrumentals of the late Sixties. It goes out to Lou from Florida, listening in on wvbr.com.)
Never Can Say Goodbye - Isaac Hayes (5/71; #22 Pop, #5 R&B -

The Jackson 5 and

Isaac Hayes released this one at about the same time, but their version spent three weeks at #2 - right behind Joy To The World. Gloria Gaynor would have a big hit with it about seven years later.)
* Love Gangster - Manassas (4/72; dnc - this one never seems to have been released as a single, but it closes out Stephen Stills' fourth solo album - if you can call the group Manassas 'a solo album.' Chris Hillman and Dallas Taylor were among the group members.)
45 Corner:

So Bad

- Paul McCartney (12/83; #23 - Paul is said to have written this for Michael Jackson to sing. When Michael declined, Paul cut it himself - in the 'style' of Michael Jackson! Check out the drummer in the video. And the keyboardist. Happy birthday, Paul.)
*

60/40

- Bernie Milton & The Soul Patrol (1985; dnc - Ithaca has produced some great entertainers over the years, and Bernie was one of the best. He used to do a show on Ithaca College's WICB, and their manager once told me about getting a telephone request for "...that song about the six-day party." Mondegreen #3.)
CLOSING THEME: Sleepwalk – Santo & Johnny (1959, #1 for two weeks)
* Golden Slumbers > Carry That Weight > The End - The Beatles (1969 - we close the show with a request that came in pretty early: the final few tracks th

at

end Side Two of Abbey Road, the recording that ended

T

he Beatles' work together as a band. "And in the end the love you make is equal to the love you make." Goodnight.)
Congratulations to Barbara from Ulysses, who is now entered into the lottery for a pair of all-Festival passes to the Falcoln Ridge Folk Festival!
Host Next Week (6/25): JH with a spotlight on Summertime!
Thanks for tuning in! You can listen to Rockin' Remnants every Saturday night from 6-9pm on WVBR (93.5 FM in Ithaca, NY) or at
wvbr.com/listen
.